This past weekend I was visiting with my sister in law Erin. She knows that MyHandsomeHusband isn't a real beef lover. (You may have noticed this simple truth due to the high number of chicken recipes I post, with only a few beef recipes thrown in now and then. What can I say…I aim to please.)
Anyhow, Erin said something to me like "Hey, I know you are always looking for new ways to cook beef. Man, do I have a great recipe that is super fast, easy and wonderful."
The girl did not lie. She's really great like that.
This sandwich does indeed come together quickly, 20 minutes from start to finish. The ground beef has a wonderful savory flavor. Melt some glorious cheese over the top, pile on some sautéed onions and pepper, serve it all on a crusty bun and baby…you 've got a great little meal on your hands.
Try it with some Oven Baked Sweet Potato Fries and a crisp green salad.
Simple and fabulous. 🙂
Poor Mans Philly Beef and Cheese Sandwiches
Print Recipe
Time: 20 minutes (love that!)
yield: 8 sandwiches
Recipe from my lovely sister Erin Jepsen
2 pounds ground beef
2 packages Lipton onion soup mix
1 T worcestershire sauce
2 T butter
1 onion, sliced
8 small sweet peppers or 2 large bell peppers, sliced
salt
6 slices provolone cheese
8 ranch rolls, or other crusty rolls
 
 1. Heat up a large skillet. Toss your ground beef into it and break it all up with a spatula.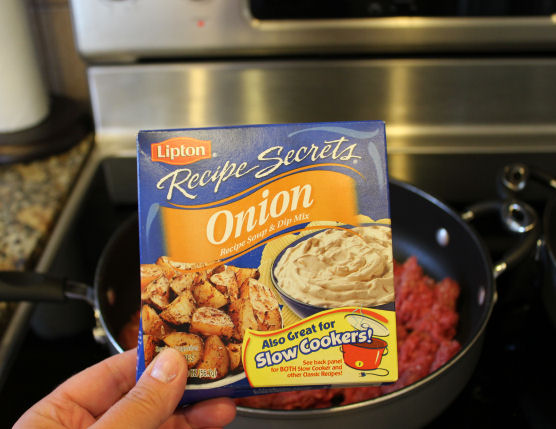 2. Pour the contents of two packages lipton onion soup mix over the beef
and sprinkle about 1 tablespoon of worshestershire sauce over the top as well. Stir it all in with a spatula and cook the beef over medium high heat until it's all nicely browned.
3. While your poor mans beef is cooking 🙂 slice up some sweet bell peppers and one nice onion.
4. Heat up another deep skillet over medium high heat. Add 2 tablespoons of butter to the skillet. Once it has melted add your peppers on onion. Add a bit of salt and let them cook until golden and wilted, stirring occasionally.
5. Once your ground beef has browned take 6 slices of provolone cheese
and lay them over the top.
Turn the heat off and cover the pan with a lid.
Once the cheese has melted, remove the pan from the stove top.
6. Slice a bun in half and dish some of the cheesy meat onto it.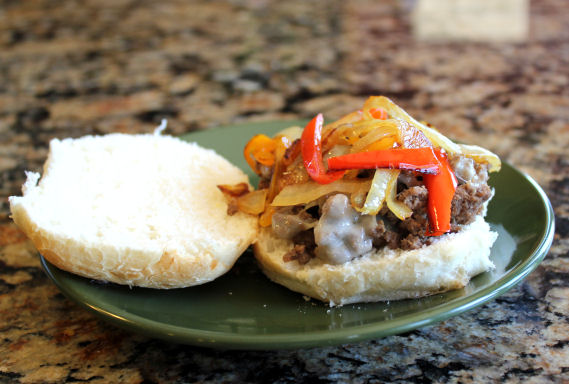 Cover the beef with some beautiful sautéed peppers and onions and you are ready to serve.
Enjoy!