This holiday season I wanted at least one of my Christmas Treat posts to be super kid friendly. Something our little ones would get a kick out of and be able to help with. These Cute Christmas Rice Krispie Treats are what I came up with. They are super tasty and a fun twist on the classic treat. I simply tossed a cup of Christmas M and M's in with the treats and then spread melted white chocolate over the top. Then we decorated them with red candy melts and more Christmas M and M's. You can decorate them any way you see fit. These treats of mine are of course just a suggestion. Have a fun time with it!
I hope your holiday season is going well, everyone! I bet you have all your shopping done and  are just sitting around twiddling your thumbs, drinking in the holiday cheer and waiting for the jolly old man to make his grand appearance, aren't you? I knew you would be super organized like that. I want to be you when I grow up. 🙂 Have a great weekend, guys. 'Tis the season to be Merry and Bright, you know.
Time: 30 minutes
Yield: 30 treats
Recipe from Jamie Cooks It Up!
1 (10 ounce) bag mini marshmallows
4 T butter
1/2 t vanilla
dash salt
6 C rice krispie cereal
1 C m and m's (christmas colored)
1 (12 ounce) bag white chocolate chips
5 ounces red candy melts
1. Into a large pot place 1 bag mini marshmallows and 4 tablespoons of butter. Heat it over medium high heat, stirring constantly, until the butter and marshmallow have melted together and become one.  Add 1/2 teaspoon vanilla and a dash of salt. Stir to combine.
2. Pour 6 cups rice krispie cereal into the marshmallow mixture. Stir to combine.
Toss in 1 cup of these beautiful red and green m and m's. Green and red are happy colors, wouldn't you agree? Stir them around in your gooey rice krispe treats.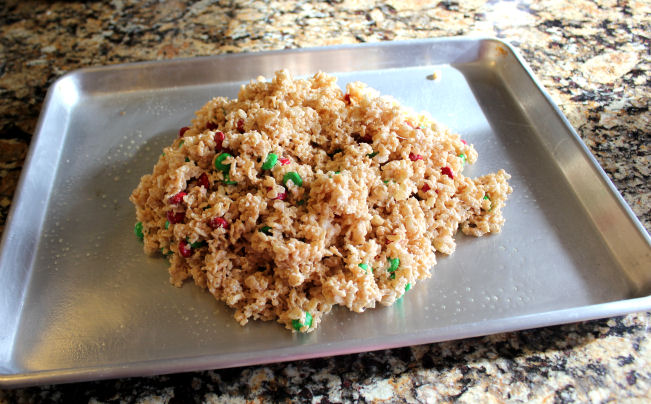 3. Spray a large cookie sheet with cooking spray and dump the warm krispie treats onto it.
Flatten the treats down and out, and shape them into a square. Mine is about 12 x 12, give or take a centimeter or so.
4. Toss 1 package of white chocolate chips into a small bowl and heat it in the microwave in 30 second intervals, stirring after each cooking segment. Be careful not to get the chocolate too hot, it will seize right up on you.
5. Spread the white chocolate over the top of the krispie treats. Allow it to cool and set for about 10 minutes. You can toss the pan into the fridge to cool them quicker.
6. When the chocolate has set up take a sharp knife and cut the treats into squares.
7. Find yourself some of these wonderful candy melts. They have them at Walmart in the cake decorating section. You can also find them at most craft stores.  Let me also throw out a word of caution here. Trying to turn regular white chocolate red with food coloring won't work out very well for you. Trust me on this one, guys. I have made some frightningly ugly concoctions trying to dye white chocolate with food coloring. It's best to keep a look out for these candy melts. They come in a lot of great colors. Toss about 1/4 of the bag into a small bowl. Heat it in the microwave for 30 seconds at a time, stirring after each cooking segment until the candy is melted.
8. Toss a small (I used a Wilton #3) cake decorating tip into a pastry bag and fill it with the red, melted candy. You could also use a small ziploc bag to pipe the red melts onto the krispie treats. Just cut a small snip out of the corner of the bag and you will be set.
Then decorate however you desire. Let the red candy cool and set up (should only take about 10-15 minutes) and then serve. If you are planning to wrap them and give them away be sure the white chocolate and the red candy is totally set up, other wise you will have a bit of a mess on your hands.
Enjoy!