I've been on somewhat of a Homemade Syrup kick lately. Anyone remember the Cinnamon Syrup I posted a few months ago? The stuff is like sweet dream pie, I tell you. I feel like kissing it when I make it, truly. Excepting that kissing syrup would be pretty weird and would end up giving my children just one more reason to look at me with those eyes that say "I have never known anyone weirder than you".
Do your kids ever give you that look?
In public do they whisper in your ear, things like "Jeeeeez, you are so embarrassing, Mom. Pull it together before the earth swallows me whole".
No?
Must only be me, I suppose. I try to be on my best behavior, truly I do. Why would I want to embarrass my dear teenagers. Good glory. For instance, I would NEVER kiss syrup in public. I have my limits you know.
But if I WERE the type of person that likes to go around kissing syrups, this Coconut Syrup would be first in line.
It's rich, creamy, buttery and tastes like coconut. Drizzle the blessed concoction over Pancakes or French Toast and you've got a match made in Kissing Heaven.
If you are a coconut fan, I hope you give it a go!
Let me show you how to make it happen…
Time: 10 minutes
Yield: 2 cups
Recipe from Cooking Alamode
1/2 C butter
3/4 C buttermilk
1 C sugar
1/2 t baking soda
1-2 t coconut extract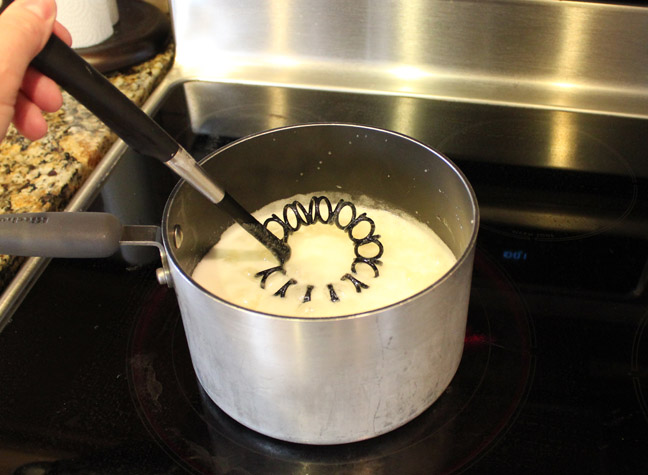 1. Grab 1/2 cup of butter and place it in a medium-sized sauce pan. Be carefull not to use a sauce pan that is small. The syrup will bubble up and roll right over the side. Then you might kick the stove or start to cry or drop a curse word, and we don't want that to happen, okay? Just grab a nice medium-sized pan and all will be well.
2. Melt the butter over medium high heat. Add 3/4 cup buttermilk and 1 cup of sugar. Stir it all nicely together.
3. Bring the mixture to a boil, while stirring continually. Once you have a nice rolling boil, let it do so for 1 minute.
4. Remove the pan from the stove and add 1 teaspoon baking soda
and 1-2 teaspoons coconut extract.
Stir it all in to combine. The syrup will start to foam up and bubble. Do not be alarmed.
4. Let it sit for about 5 minutes. It will thicken slightly as it cools down, which will give you a chance to do something like…make pancakes. 🙂
Enjoy!