If you are looking for an EASY recipe that is hearty, comforting and delicious look no further. This creamy chicken dish is just for you! Made in the crock pot, the prep time for this beauty is very minimal. Your looking at a breezy 10 minutes to put it all together. 🙂 That's something to smile about, right! You can even use frozen chicken breasts. Easy, baby. Easy as can be.
The chicken simmers in a flavorful, creamy sauce. When it is cooked through you shred it with a fork and add sour cream, cheddar cheese and broccoli to the sauce. Then just pour it over some white rice, top with additional cheddar cheese and dinner is served man. My family gave it many thumbs up. It's creamy, comforting goodness at it's best.
Now, let me show you how to make it happen.
Creamy Chicken, Broccoli and Cheddar over Rice (Crock Pot)
PRINT RECIPE
Time: 10 minutes prep + 4-7 hours crock pot cooking
Yield: 6 servings
Recipe adapted from The Recipe Critic
2 (10.5 ounce) cans Cream of Chicken Soup
1 1/3 C hot water
2 tsp chicken bullion granules
1/4 tsp salt
1/4 tsp garlic powder
1/4 tsp N' Orleans Cajun Seasoning
4 chicken breasts, about 2 pounds (I used frozen)
4 C broccoli
1 C sour cream
1 C (heaping) cheddar cheese, grated
2 Tb cold water + 2 Tb cornstarch (optional)
cooked white rice
1. Spray the inside of a 3-4 ounce crock pot with cooking spray. Add 2 cans (undiluted) of Cream of Chicken soup into the pot.
2. Sprinkle 2 teaspoons chicken bullion granules over 1 1/3 C hot water. Stir it well to dissolve and pour the broth into the crock pot.
3. Add 1/4 teaspoon granulated garlic (or garlic powder)…
1/4 teaspoon N'Orleans Cajun Seasoning and 1/4 teaspoon salt. Stir it in to combine.
4. Place 4 chicken breasts into the crock pot. You can use fresh or frozen. Stir the sauce a bit and pour it over the chicken. Cover and cook on high for 4 hours or on low for 7.
5. When the chicken has cooked through and is no longer pink in the center, chop up 4 cups of broccoli.
Place it in a microwave safe bowl, add a splash of water, cover and steam it in the microwave for 2-3 minutes or until crisp tender.
6. To the crock pot add 1 cup sour cream,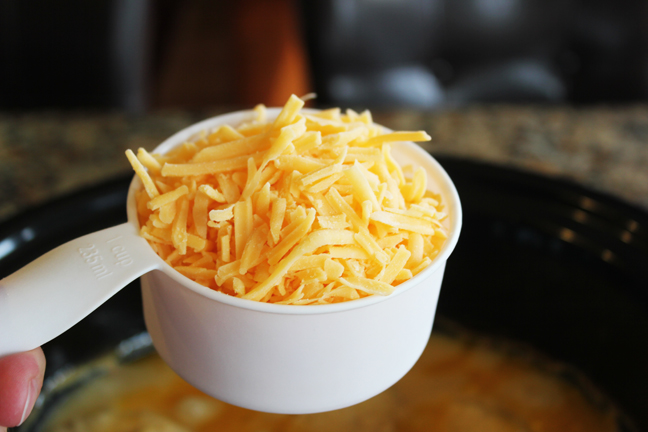 and 1 heaping cup of cheddar cheese (more if you like). Add the broccoli as well and give it all a nice stir.
7. Shred the chicken up a bit with two forks.
8. If the sauce is thinner than you would like, mix 2 tablespoons of cold water with 2 tablespoons of cornstarch. Pour it into the crock pot, stir well and cook on high for 20 minutes. If the sauce is thick enough for your liking, don't add the cornstarch/water mixture  and just cook  until the sour cream is heated through and the cheese has melted. Give it a taste and add a bit of salt and pepper to your liking.
Serve over white rice and sprinkle with more cheddar cheese. Enjoy!