The winner of the Ninja Blending System (chosen at random) is Erin, comment #402. Congratulations and thanks to so many of you for entering! It was fun to read about your kitchen mishaps. I am happy to see I'm not the only one who boils a pot over, on a regular basis! 🙂 
Now, dear ladies and gentlemen! You must make this fabulous Fresh Fruit Salsa with Cinnamon Sugar Tortilla Crisps! It's fresh, juicy and bursting with natural goodness. My husbands coworker brought it to a work gathering and he came home raving about it, with the recipe in tow. I made it this week and took it along to my sister's house where I'd been invited for lunch. Wow, my sisters and I loved it. My cute nephews loved it! Later that afternoon when my kids came home from school the devoured every last bite.
It's a keeper, folks. Make it for a party, share it with your favorite  neighbor, bring it to a pot luck…or make it just for the fun of it.
Let me show you how to make it happen…
Fresh Fruit Salsa with Cinnamon Sugar Tortilla Crisps
PRINT RECIPE
Time: 30 minutes
Yield: 4 cups salsa
Recipe adapted from Kayanne Malin and AllRecipes
6 flour tortillas
2 T butter (or "I can't believe it's not butter spray")
2 Tb sugar
1 tsp cinnamon
1 pound strawberries
4 kiwis
1 apple (I used Golden Delicious)
1 C blueberries
2 tsp apricot jam (or any other kind of jam)
1 tsp lime juice (fresh is best)
1 T brown sugar
dash salt
1. Preheat your oven to 375 degrees.
2. Grab 6 flour tortillas…
and some softened butter. Spread a little less than 1/2 teaspoon over each tortilla.
If you are looking to lower the calorie content you can use some Butter flavored spray. I prepared half  the tortillas with real butter and half with the spray, just to see if I could tell a difference. They were both really good. The real butter offered a richer flavor, but the spray did just fine. So…pick your poison. 🙂 Real butter or the spray butter will both work out great.
3. Take a sharp knife or pizza cutter and slice the stack of tortillas into 10 triangles.
4. Spray 3 large cookie sheets with cooking spray and lay the cut tortillas out evenly. You don't want them to overlap too much.
5. Into a small bowl place 2 tablespoons sugar and 1 teaspoon cinnamon. Mix well…
and sprinkle it over the top of the tortillas.
6. Bake for 10-15 minutes or until the tortillas are nice and crisp.
6. While your tortillas get crispy in the oven, go ahead and cut your fruit. Slice the tops off of the strawberries and then chop the berries into small chunks. Place them in a medium-sized mixing bowl.
7.  Using a large knife cut the apple into  four large chunks, cutting right next to the core. Then, using a small knife slice the peels from the apple pieces. Then slice each chunk into narrow strips and chop the strips into chunks. Add the apple chunks to the bowl.
8. Cut each of the kiwi in half, right through the middle. Take a small, sharp knife and cut the flesh of the fruit away from the peel, leaving the fruit inside the peel. Cut the fruit into 6-8 wedges and then pop them out of the peel. Add them to the bowl.
9. Add 1 cup of fresh blueberries.
10. Add 2 teaspoons of apricot jam. (Or any other jam of your choice).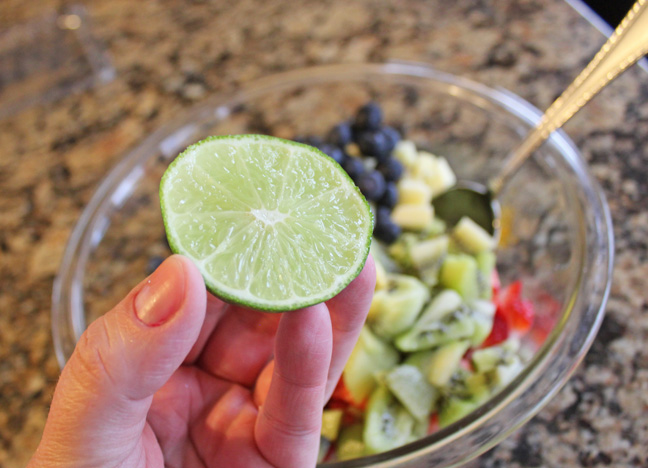 11. Add 1 teaspoon lime juice (about 1/4 of one lime).
12. Add 1 tablespoon brown sugar and a dash of salt.
Give everything a nice stir, making sure the jam and sugar get evenly distributed.
13. Cover and chill for 2 hours. (If you can stand to wait that long! It's really great right after it has been mixed.)
Serve with the Cinnamon Tortilla Crisps and Enjoy!