This Sausage and Potato Skillet Dinner is packed with hearty flavor and goodness. It comes together in under 30 minutes making it an easy weeknight dinner solution. You could also serve it as a breakfast. Sausage and potatoes kind call out "I am a breakfast food, serve me with pancakes please." Don't they? 🙂 Either way, breakfast or dinner this recipe is a winner.
Hope you love it!
Let's make it, gang. Easy, hearty, filling and fabulous coming your way…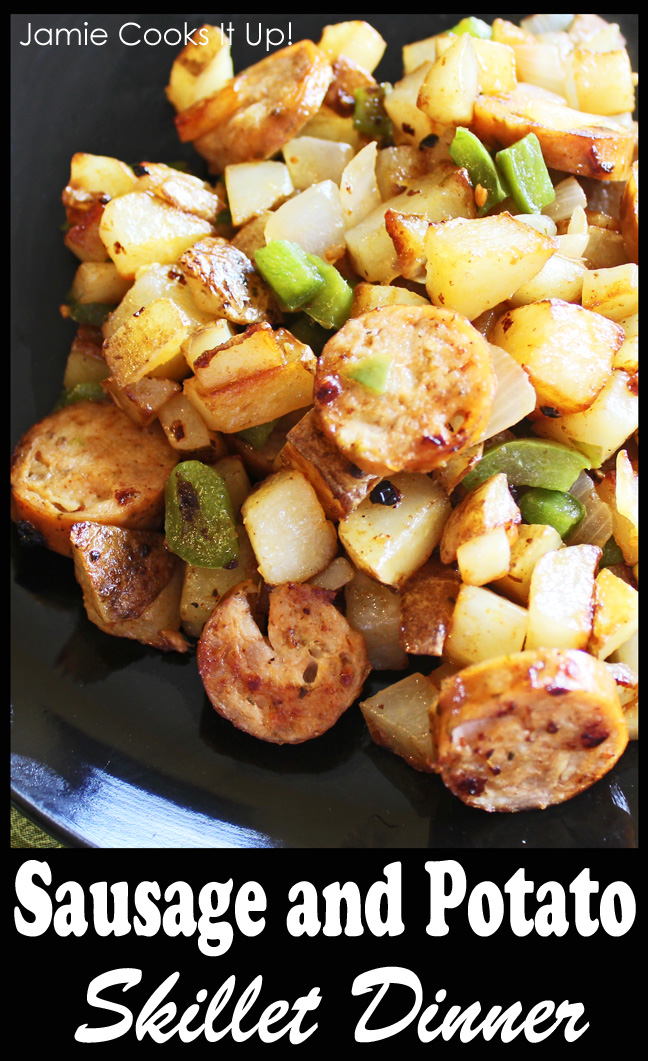 Sausage and Potato Skillet Dinner (or breakfast!)
PRINT RECIPE
***Note: I recommend using two skillets, one for the potatoes and one for the sausage, peppers and onions. Cooking the potatoes separately from the other ingredients will give you golden crisp potatoes. A worthy goal, yes? ***
Time: 30 minutes
Yield: 6-7 servings
Recipe from Jamie Cooks It Up!
6 medium russet potatoes
1 Tb butter
1 Tb olive oil
salt and pepper
1/4 tsp seasoned salt (I like Lawry's)
1/4 tsp smoked paprika
1 green pepper
1 medium onion
1 (16 ounce) package Italian Chicken Sausage, fully cooked (or another sausage of your choice)
1. Grab 6 russet potatoes, toss them in your sink and scrub them well with water.
2. To cut the potatoes, slice each one into long strips. Lay each potato half cut side down and slice them into strips. Cut the slices into bite size pieces.
3. Heat a large, deep skillet up over medium high heat. Add 1 tablespoon butter and 1 tablespoon olive oil. When the butter has melted toss your cut potatoes into the hot skillet.
4. Hit the potatoes with some salt and pepper, 1/4 teaspoon seasoned salt and 1/4 teaspoon smoked paprika.
5. Give everything a nice stir and cook until the potatoes are golden brown, crispy and wonderful.
6. Chop 1 green bell pepper and one onion.
7. Grab a 1 pound package of Italian Chicken Sausage that has been fully cooked. You can use whatever kind of cooked sausage you like. I just happened to have this on hand. Found it at Sam's Club, it comes in a package of 3.
8. Slice the sausage into 1/2 inch rings.
9. Grab another skillet and heat it to medium high heat. Add just a teaspoon or so of olive oil to the pan so it's not totally dry when you add the sausage and veggies. Toss them in the skillet and cook until the veggies are tender and the sausage has a nice sear to it.
10. Pour the sausage, green peppers and onions into the skillet holding the potatoes. Give it a nice stir and taste it. Add more salt and pepper if needed.
Serve and enjoy!