My parents gave me a fondue pot for Christmas. (Nice, aren't they!) I've been having a great time trying out recipes for it, and have been through several versions of chocolate fondue in my search for something with just the right consistency and sweetness. I am happy to report that the recipe I brought to share with you today is my very favorite. It's not too runny and packs a great combination of bitter and sweet. I figured Valentines Day Week would be a great time to share it with you all.
It's super easy and can be made in about 10 minutes. Perfect if you are hoping to impress your special someone with a sweet treat, without having to spend 12 hours baking a 7 layer chocolate dipped cheesecake of wonder and bliss.
Enjoy!
Time: 10 minutes
Yield: 1 1/2 Cups
Recipe adapted from The Joy of Baking
***Can be made in advance, and refrigerated until ready to use. It will turn into a thick fudge-like substance when cold. When you are ready to use it just reheat for 30 seconds or so in the microwave. ***
1 1/2 C semi sweet chocolate chips
3 Tb butter, chopped
3 Tb brown sugar
1/2 C whipping cream
1/4 C milk (I used 2 %)
1 tsp vanilla
Ideas for dipping:
Strawberries, bananas, pineapple, apples, cinnamon bears (hello!!), doughnut holes, brownies, pretzels, cookies, peanut butter-filled crackers, marshmallows, rice krispie treats, caramels, peanut brittle, biscotti, coconut macaroons, graham crackers, vanilla wafers…etc. 🙂
1. Pour 1 1/2 cups semi sweet chocolate chips into a small glass mixing bowl.
2. Into a medium-sized sauce pan place 3 Tb packed brown sugar and 3 Tb chopped butter.
3. Pour 1/2 C whipping cream and 1/4 C milk into the pan.
4. Get it onto the stove and heat the mixture over medium high heat, stirring occasionally until the butter is melted and the sides start to bubble up.
5. Pour the hot mixture over the top of the chocolate chips.
6. Let it sit together for about 5 minutes, allowing the chocolate to melt. Then gently stir. The chocolate will begin to incorporate into the liquid mixture. Be patient. It will look kind of funky at first. Just keep on stirring, keep on stirring. 🙂 Should only take a minute or two and you will have…
this glossy mixture to enjoy and devour.
7. Serve immediately with anything you choose. If you have a fondue pot to keep it warm, that would be great. It will thicken up as it starts to cool. Pop it into the microwave for 20-30 seconds and it will thin out for you.
PS… These cute peanut butter filled crackers are super yum.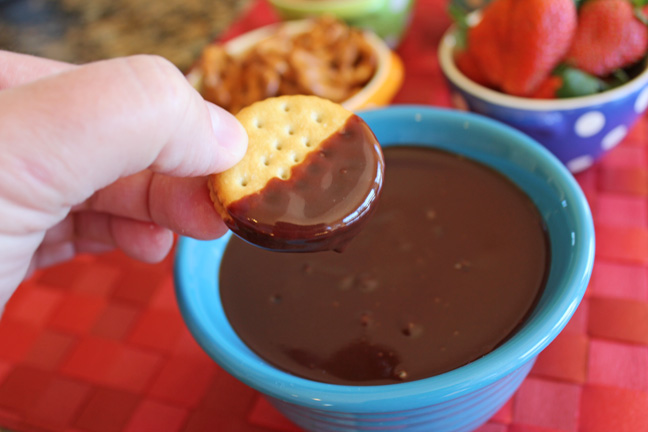 If peanut butter and chocolate is your kind of thing.
Enjoy!