Hello, hello!  I have a fun recipe roundup for you all today highlighting recipes that would be fabulous to serve on Super Bowl Sunday, which just happens to be rounding the bend this week. All kinds of hearty deliciousness is in store for you! I've got scrumptious dips, hearty nachos, burgers, soft pretzels, sandwiches, chilis, soups, and an array of desserts that will make you smile from ear to ear.
Please don't attempt to make these all on the same day. 🙂
Hope you find something to love, friends!
Buffalo Chicken Quesadillas 
Soft Pretzel Bites 
Pepperoni and Cheese Pinwheels 
Chunky Guacamole 
Chicken Fajita Nachos 
Greek Feta and Tomato Dip
Chili Cheese Dip
Creamy Artichoke Dip 
Fabulous Seven Layer Dip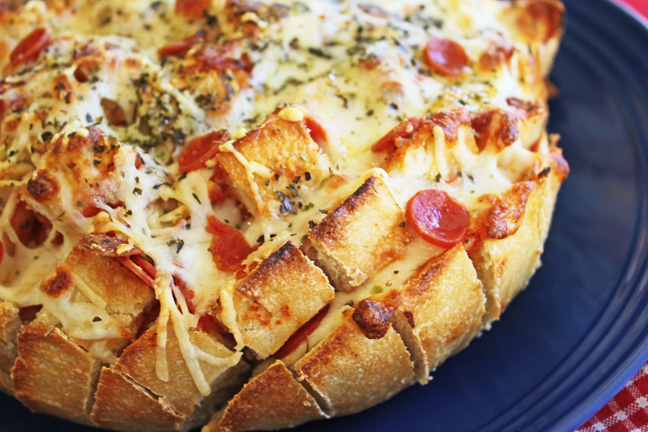 Pepperoni Pizza Party Bread 
Skinny Texas Cheese Fries 
Stuffed Mushrooms 
Cheesy Pesto Pull Apart Bread
BBQ Ranch Pulled Pork Nachos 
Pastrami Burger of Wonder 
BBQ Chicken Sandwiches (Crock Pot)
Loaded BBQ Beef Sandwiches (Crock Pot)
Shredded Buffalo Chicken Sandwiches (Crock Pot)
Open Faced BBQ Chicken Sandwich 
Chicken Pesto French Bread Sandwich 
BBQ Pulled Pork Sandwiches 
Meatball Marinara Sub Sandwich 
BBQ Chicken Chili
White Chicken Chili with Rice 
Jalapeno Cheddar Corn Muffins
Chili's Copycat Chicken Enchilada Soup
Lasagna Soup for a Crowd 
Easy Cheesy Garlic Bread 
Potato Cheese Soup (Crock Pot)
Meatball Minestrone Soup
Red Lobster Garlic Cheese Biscuits 
Simple French Bread Pizza 
Homemade Sushi Stacks
Cinnamon Roll Cheesecake Dip
Chewy Chocolate Chip Oatmeal Bars 
Chewy Chocolate Chip S'more Bars 
Chocolate Chip Cookie Pizza 
Easy S'more Dip
Easy Homemade Twix Bars 
Easy Caramel Smore Bars 
Large Batch Chocolate Chip Cookie Bars 
Large Batch Frosted Brownie
Crunchy Candy Bar Popcorn 
Cake Mix Dessert Waffles
Chocolate Lava Crock Pot Cake 
Swig Sugar Cookies 
Chocolate Mint Whoopie Pies 
Texas Sheet Cake 
Samoa Sheet Cake 
Chewy Double Chocolate Chip Cookies 
Cutler's Frosted Peanut Butter Cookies