Are you a crepe fan? I sure hope so, because I've got a fabulous version to share with you today. A thin and dainty crepe is filled with a delicious cream cheese filling and topped with a homemade berry sauce. The combination is out of this world, friends. Fantastic, delightful and heavenly. I made them for my family this past Valentines Day and please believe me when I say, they were a happy bunch.
They would make a fantastic lazy morning-weekend breakfast, you could serve them as dessert at your next book club party, they make a perfect Sunday night treat, would be wonderful at a brunch, or even to devour as an after school snack. 🙂
For a picture tutorial on making crepes click HERE, and for a picture tutorial on making Berry Syrup click HERE.
Ingredients
BERRY SAUCE:
4 t cornstarch
1/2 C sugar
1 1/2 t water
1 1/2 t lemon juice
1 (12 ounce) package mixed berries, frozen
1 T butter
1/2 t vanilla
dash salt
CREAM FILLING:
2 (8 ounce) packages cream cheese, softened
1 1/4 C powdered sugar
1 1/2 C cool whip
1 tsp vanilla
dash salt
CREPES:
3 C milk
2 C all-purpose flour
2 T oil
4 eggs
1/2 t salt
3 T sugar
1 t cinnamon
2 t vanilla
Instructions
Berry Sauce:
1. Grab a medium sized sauce pan, add the cornstarch and sugar and toss to combine. Pour in the water and lemon juice and stir to combine.
2. Add the frozen berries and stir.
3. Place the pan on the stove top and turn the heat to medium high. Stir occasionally and allow the mixture to come to a simmer.
4. Stir and simmer for 2-3 minutes or until the mixture thickens and becomes glossy.
5. Remove the pan from the heat and stir in the butter, vanilla and salt. Set the pan aside while you make the other cream filling and crepes.
CREAM FILLING:
1. With electric beaters (or in your stand mixer) cream together the cream cheese and powdered sugar until nice and smooth. Add the cool whip, vanilla and salt and mix until smooth. Set aside while you make the crepes.
CREPES:
1. Pour all ingredients into your blender and blend until smooth.
2. Heat a medium sized skillet over medium high heat.
3. When the pan is hot, spray with cooking spray and pour about 3-4 Tb of batter into the pan. Swirl the pan to allow the batter create a think coating on the bottom of the pan. When the bottom is golden brown, flip it to the other side and cook until golden brown.
Serve the warm crepes with cream filling and berry syrup. Enjoy!
https://jamiecooksitup.net/2017/02/berries-and-cream-crepes/
Recipe from www.jamiecooksitup.net
Recipes from Jamie Cooks It Up!
Words are not enough to express to you how delicious these are! Hope some of you get a chance to try them!
Crazy about crepes? Here are a few more posts for you…
Chocolate Crepes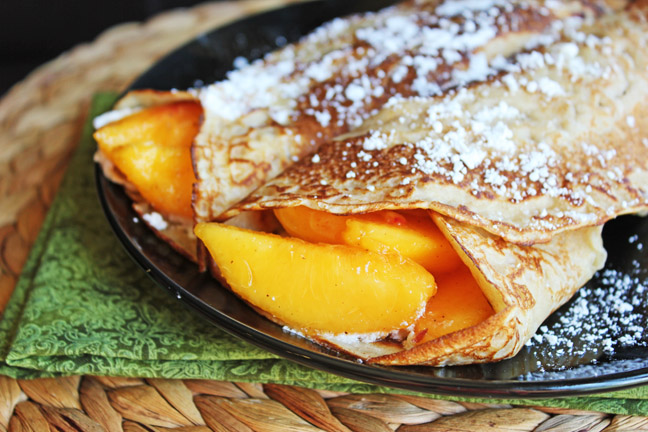 Cinnamon Vanilla Crepes with Peaches and Cream 
Whipped Nutella Mousse
This makes an AMAZING crepe filling!