A couple of days ago MyLittleTwinBoyAaron woke up in the morning and promptly asked me if today would be warmer than yesterday.
"You happen to be in luck!" I said.  "Today should be a whole 5 degrees warmer than it was yesterday."
"Sweet!" he said. "I'm going to find a tank top and some shorts."
What a shock and surprise the little guy had when he realized that the jump from 10 degrees to 15, does not a heat wave create. I have to admit to being a bit disappointed myself! Man, but it has been cold in my neck of the woods lately! Bitter, bitter cold, dear readers. Not really tank top/shorts weather, if you catch my drift. My family and I have been at Bear Lake this past weekend, and every day our little house has been buried up to its tip-top in a dense fog. The kind of fog that makes you forget anyone else in the outside world even exists; seeing as the view from my window only stretches a measly 5 feet before it gets swallowed up in a blurry haze. Foggy and cold. Cold and foggy, are the issues we are dealing with here.
Which makes life inside with my family pretty cozy, come to think of it.
In fact I'm pretty sure I can hold off on the tank top and shorts a while longer. Cozy winter seems to be treating me just fine. 🙂

The recipe for Chicken Stroganoff I have for you today is out of this world fabulous. The chicken chunks are flavorful and moist while the sauce is rich and savory. It should only take you about 40 minutes to make this beauty of a dish. Serve it with warm buttery egg noodles and life will be pretty grand. Cozy and grand…right in the middle of a foggy winter.
Who would have thought…
Time: 40 minutes
Yield: 6 servings
Recipe from Jamie Cooks It Up!
3 large chicken breasts (about 2 pounds)
3/4 C flour
salt and pepper
olive oil
2 T butter
1 1/2 C chicken broth
2 (10 ounce) can cream of chicken soup
1 t parsley, dried
1/2 t thyme, dried
3 T sour cream
1/2 t new orleans cajun seasoning (optional, but fabulous. It really adds to the flavor.)
Hot buttered Egg Noodles
1. Find yourself 3 chicken breasts. Trim off any excess fat and cut them into chunks (about 2-3 inches each) with a pair of kitchen scissors.
2. Pour 3/4 cup of flour into a small bowl.
3. Heat a large skillet up over medium high heat. When the pan is nice and hot add 2-3 tablespoons of olive oil into the pan.
4. Dredge each chicken chunk in flour and then set in the hot oil. Once all of the chicken is in the pan sprinkle it with a bit of salt and pepper.
5. Allow the chicken to get golden brown on the bottom. Turn each piece over and let it get golden on the other side as well. You may need to add just a bit more oil to the pan when you turn the chicken. If the pan is looking dry, then go ahead and add more oil.

6. When the chicken has cooked through, remove it to a plate and cover it with foil.
7. Add 2 tablespoons of butter to your hot skillet and allow it to melt.
8. Add 1 1/2 cups chicken broth (I used 1 1/2 cups water + 1 1/2 teaspoons chicken bullion granuals).
9. Add 2 cans of cream of chicken soup. Give the mixture a nice stir with a wisk to incorporate the soup and broth.
10. Toss in 1 teaspoon parsley,
1/2 teaspoon thyme,
2 tablespoons sour cream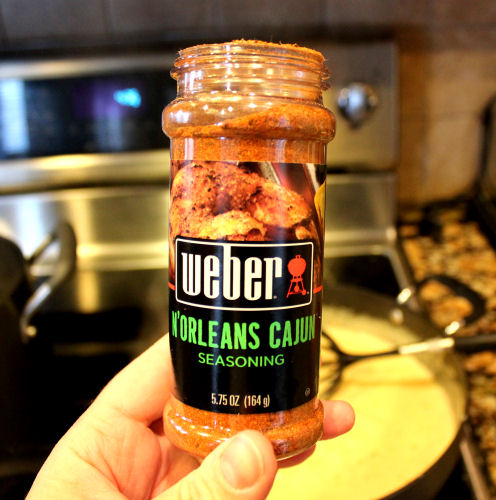 and 1/2 teaspoon N'Orleans Cajun Seasoning. Stir everything together and let the mixture come to a boil over medium high heat.
11. Return the cooked chicken to the pan and allow the chicken to simmer in the sauce for about 5 minutes. The sauce should thicken up a bit for you here. If you would like a little thicker sauce, mix together 1 tablespoon of corn starch with 1 tablespoon of cold water and pour it into the sauce. Stir it in and allow the sauce to come to a boil.
12. Remove the pan from he heat and serve the chicken and sauce over warm, buttered, egg noodles.
Enjoy!