I was thrilled when Kettle Brand Chips and BlogHer asked me to participate in the "Perfect Picnic Pairing" campaign. I love packing up a picnic tote  and carting my kids off to the park to enjoy it in the company of friends. Today, as part of this campaign I have a wonderful cookie bar recipe perfect for picnicking. It goes well with Kettle Brand Chips, it goes well with a good PBandJ, it goes well with a friend or two to visit. My kids and I also put together a video for your viewing pleasure. If you decide to give away 2 1/2 short minutes of your life to watch this crazy video…I can promise you will come away either chuckling to yourself, or scratching your head wondering how I got MyTeenSonMark to participate. Maybe both. 🙂
Do you feel like rushing out to buy some Kettle Brand Chips after watching that little show? I hope so, they really are fantastic. Here are a few things I have learned about Kettle Brand Chips. 30 years ago, Kettle Brand Chips pioneered the kettle cooking style. They developed the method and continue on today cooking real, unpeeled potatoes in small batches in an effort to gain superior taste and a heavenly crunch. Which they really do have! I love the crunchiness of the Krinkle Cut  Chips especially. I'm a girl who likes a bit of crunch in her life and Kettle Brand Chips are just the ticket.  Kettle Brand also cooks their chips with all-natural, non-GMO ingredients, using no trans fats, MSG or artificial colors and flavors. I like that in a chip! Kettle Brand Chips would make a wonderful addition to any summer time gathering you have planned. Picnic in the Park, Pot Luck of Wonder, Sit At The Beach and Tan…whatever you have planned. Grab some of these great chips, won't you?
And some cookies…
These Cookie Bars are super soft, moist and slightly fluffy. The prep time is very minimal (thanks to the cake mix!) and they are wonderful eaten warm from the oven. Let me show you how easy they are to put together!
Time: 5 minutes prep + 35 minutes baking
Yield: 25 bars
Recipe adapted from Epicurious
1 yellow cake mix
1 (3.4 ounce) box instant vanilla pudding
1/4 C oil
3/4 C water
2 eggs
1 1/2 C milk (or semi sweet) chocolate chips
1. Preheat your oven to 350 degrees.
2. Grab a yellow cake mix and one small box of instant vanilla pudding. Toss them both into your stand mixer, or medium-sized mixing bowl.
3. Add 1/4 C oil… 
and 3/4 cup water.
4. Add 2 eggs…

and mix it all up until well combined and beautiful.
5. Add 1 1/2 cups milk chocolate chips and mix just until combined.
6. Spray a 9×13 pan with cooking spray and pour the dough into it. It will be kind of thick.

Just spread it out with a knife.

7. Pop it in the oven and bake the beauty for 25-35 minutes or until a toothpick inserted into the center comes out clean.
8. Allow the bars to cool for about 10 minutes, then slice them into bars, and enjoy!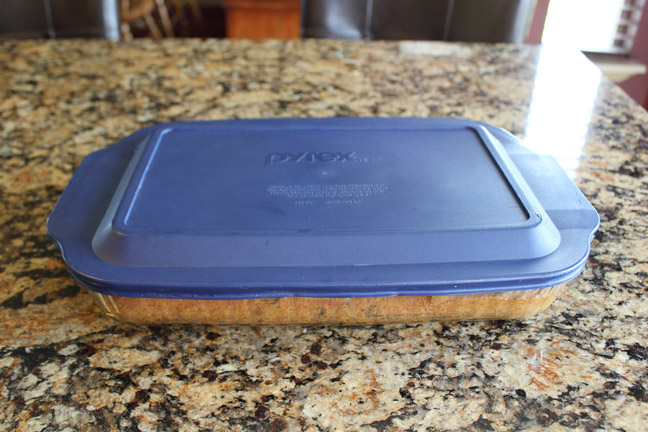 I like to make them in a pan that has a handy lid. That way, I can cart them off easily to a picnic at the park.

When my kids and I are planning to romp around at the park with friends, I generally just throw a few things into a tote for lunch. Usually some sliced fruit and veggies that I store in little plastic bags.
I like to make a good PBandJ on homemade Whole Wheat Bread with homemade jam. Love it. I truly do.
I slice each sandwich into quarters
and then pack them in a plastic container…

with a lid. That way no one starts to cry and whine  about smashed sandwiches. PBandJ's are not as good if they've been smashed, would you agree? I bet you would.
Then I toss it all in a tote,
grab some Kettle Brand chips and we are ready to go. I like the Krinkle Cut best. Classic Barbeque Kettle Brand Chips are my all time favorite, and would have been shown in this picture, if they hadn't been consumed previously!
Don't forget the cookie bars!
 To enter to win $100 Visa Gift Card, just leave me a comment below telling me what you like to pack in your picnic basket.
Official Rules:
No duplicate comments.
You may receive (2) total entries by selecting from the following entry methods:
a) Leave a comment in response to the sweepstakes prompt on this post
b) Tweet (public message) about this promotion; including exactly the
following unique term in your tweet message: ""#SweepstakesEntry""; and leave the URL to that tweet in a comment on this post"
c) Blog about this promotion, including a disclosure that you are receiving a sweepstakes entry in exchange for writing the blog post, and leave the URL to that post in a comment on this post
d) For those with no Twitter or blog, read the official rules to learn about an alternate form of entry.
This giveaway is open to US Residents age 18 or older. Winners will be selected via random draw, and will be notified by e-mail. You have 72 hours to get back to me, otherwise a new winner will be selected.
The Official Rules are available here.
This sweepstakes runs from 5/20 – 7/3.
Be sure to visit the Kettle Brand Chips brand page on BlogHer.com where you can read other bloggers' reviews and find more chances to win!