Seven Layer Magic Cookie Bars a standard recipe that I'm sure most of you have made in your lifetime at one point or another. Am I right? They have graced many a pot luck dinner, baby shower, girls night party and book club chit chat.  I have seen them show their pretty face at every one of these gatherings and have never met anyone who doesn't love them.
What makes them so magical? A buttery graham cracker crust is drizzled with sweetened condensed milk. This is the magical ingredient that binds everything together, and it's not a wonder. Have you ever gotten all wild and crazy and tasted sweetened condensed milk all on its own. It's magical, isn't it. Please proceed at your own risk. I cannot be held responsible if you drink the whole can for lunch.
Thank you.
Anyhow, after the crust is drizzled with sweetened condensed milk layers of semi sweet chocolate chips, butterscotch chips, milk chocolate chips, coconut and sliced almonds are all piled up to a fine deliciousness. Everything gets baked golden and wonderful in the oven and a magical cookie bar is born.
Scroll on down to see how it's done!
SEVEN LAYER MAGIC COOKIE BARS
PRINT RECIPE
Time: 15 min. prep + 30 minutes baking
Yield: One 9×13 pan
Recipe adapted slightly from Eagle Brand Condensed Milk
1 1/2 C graham cracker crumbs
1/2 C melted butter
1 (14 ounce) can sweetened condensed milk
1/2 C semi sweet chocolate chips
1/2 C butterscotch chips
1 C milk chocolate chips
1 C sweetened, shredded coconut
1/3 C sliced almonds
1. Preheat your oven to 350 degrees.
2. Toss a little more than 1 package of graham crackers into a small food processor or blender. (I used the small pitcher of my Ninga blender) Grind them up into crumbs. You'll need 1 1/2 cups of crumbs.
3. Take the blade out of the blender and add 1/2 cup melted butter. Stir it in with a fork, making sure all of the crumbs are well coated.
4. Spray a 9×13 pan with cooking spray and press the buttery crumbs into the bottom of it.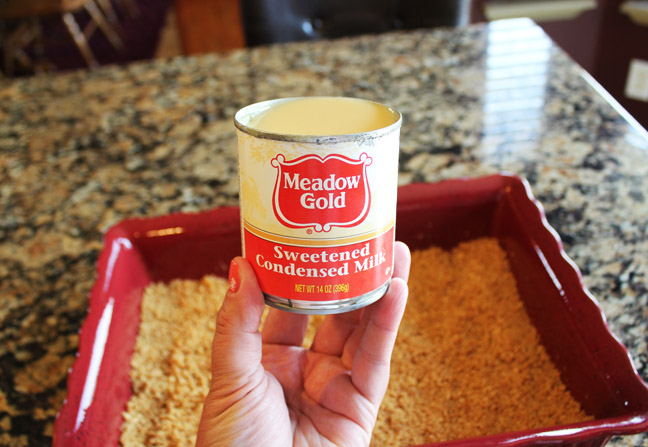 5. Grab a can of sweetened condensed milk and drizzle it as evenly as possible over the top of the crumbs.
6. Sprinkle on 1/2 cup of semi sweet chocolate chips,
1/2 cup butterscotch chips,
1 cup of milk chocolate chips and 1 cup coconut.
7. Sprinkle 1/3 cup of sliced almonds over the top…
and gently press it all down with your fingers, or a fork.
8. Pop it into the oven and bake this beauty for 30 minutes, or until it is bubbly throughout and the edges are golden brown.
9. Cool the bars completely then cut and serve.
Enjoy!