Are you ready to eat something decadent and heavenly?
I thought you might be. I bet that's why you came here after all, and since I truly aim to please  I brought this fabulous dessert along with me today…just for you.
And you…
and for you there, with the gleam of Super Bowl Sunday shining in your eyes. If you are looking for some great Super Bowl Recipes, see my roundup from last week by clicking here.
If you have ever eat at Chili's and indulged in their Chocolate Chip Paradise Pie, well then you know that decadent is the proper word for this dessert. A warm cookie bar filled with nuts, coconut and chocolate is covered with a creamy scoop of ice cream, then drizzled with chocolate syrup and caramel sauce. Oh, baby. It is heaven on a plate I tell you. Down right scrumptious. I was thinking that it would be extra fabulous with the Coconut Ice Cream I posted last summer. If you are a homemade ice cream maker, give it a try won't you? Coconut Ice Cream recipe here.
Now, let's make it!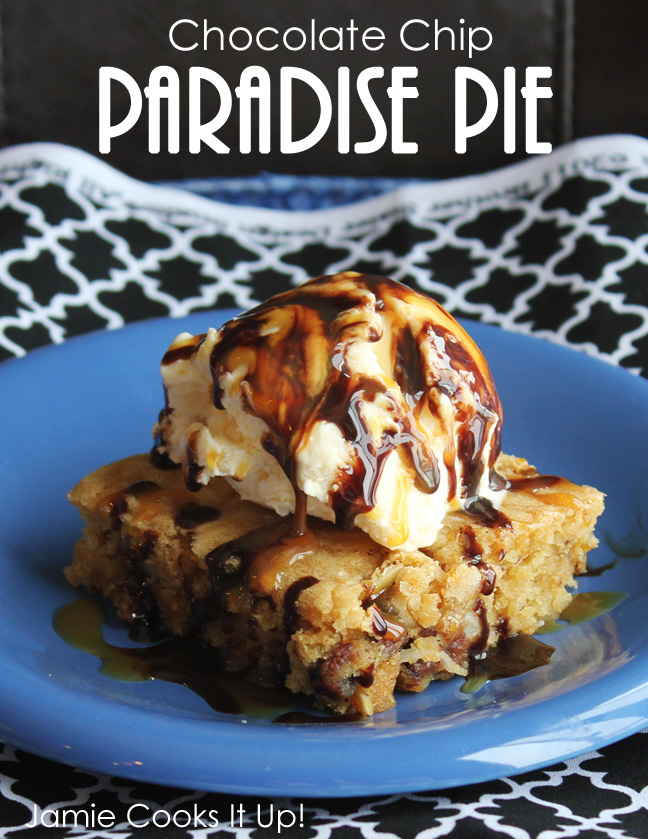 Chocolate Chip Paradise Pie
PRINT RECIPE
Time: 15 minutes prep + 35 minutes baking
Yield: 12 servings
Recipe adapted from Laura at Real Mom Kitchen
CHOCOLATE CHIP COOKIE BARS:
3/4 C butter, melted
1 1/2 C brown sugar
3 eggs
3/4  t vanilla
1 1/2 C flour
1/2 t baking powder
1/2 t salt
1/2 C slivered almonds
1/2 C coconut
1 C milk chocolate chips
TOPPINGS:
Vanilla Ice Cream
Chocolate Syrup
Caramel Ice Cream Topping
1. Preheat your oven to 325 degrees.
2. Melt 3/4 cup butter and pour it into your stand mixer or medium-sized mixing bowl. Add 1 1/2 cups brown sugar and mix for about 30 seconds, or until they are well combined.
3. Add three eggs. You may want to crack them into a separate bowl before you add them to the butter mixture. These two helpers of mine were successful in getting 59 egg shells into their eggs when they cracked them. Baby steps to perfection, right. 🙂
4. Add 3/4  teaspoon of vanilla and mix well.
5. In a separate bowl combine 1 1/2 cups flour, 1/2 teaspoon baking powder, and 1/2 teaspoon salt.
Add the dry ingredients to your creamed mixture and mix for about 2 minutes, or until the batter is nice and smooth. You can see that it's not as stiff as regular cookie dough.
6. Add 1/2 cup slivered almonds, 1/2 cup coconut and 1 cup milk chocolate chips. You can substitute semi sweet if you like.
7. Spray a 9×13 pan with cooking spray and spread the batter evenly over it.
8. Bake for 35-40 minutes, or until a toothpick inserted into the middle comes out clean.
9. Let the bars rest for about 10 minutes, then slice them into 12 squares, top with vanilla ice cream…
chocolate syrup, caramel sauce…
and dig in, baby.
Enjoy!