Hey there, ladies and gentlemen.
I wanted to let you local readers know that I am going to be filling in for Chef Bryan on the 4:00 news (channel 2) tomorrow (Tuesday September 18th). I'll be making Parmesan Chicken with Spaghetti Sauce as well as Baked Zucchini with Mozzarella. Cross your fingers for me won't you? Hoping it goes well and I don't do anything really embarrassing like sneeze on the food or trip with a whole pan of hot zucchini in my clutches.
These are the very real and serious concerns of my life.
No one wants to be known as  the girl who spilled hot zucchini all over the news anchor.
They really don't.
Not even sometimes.
For you all, today. Every last one of you…I have a fabulous, saucy, meaty, cheesy, mexican style casserole of wonder. Because I know that's most likely what you came here looking for today. A good family pleasing meal. Which is what this is. My kids loved it (minus one, trying not to hold it against him). You can put it together in the morning and bake it in the afternoon. Your can put it all together and pop it in the freezer for later (don't bake it first). Lots of possibilities with this one. Hope you enjoy it!
Ground Beef Enchilada Casserole
PRINT RECIPE
***Note: This is a great freezer meal. Assemble the casserole according to recipe instructions, but don't bake it. Cover tightly with aluminum foil and freeze. When you are ready to use, allow it to thaw completely and bake at 350 degrees for 45 minutes.
Time: 20 minutes prep + 45 minutes baking
Yield: 8 servings
Recipe from Jamie Cooks It Up!
1 pound ground beef
1 small onion, chopped
1 T minced garlic
salt and pepper
1 (14.5 ounce) can mexican stewed tomatoes
3 (8 ounce) cans tomato sauce
1 (4 ounce) can diced green chilis
1 (15 ounce) can black beans, drained and rinsed
2 1/2 T taco seasoning
1/2 C sour cream
1/2 t sugar
1 T butter
9 flour tortillas
3-4  C cheddar cheese, shredded
1. Preheat your oven to 350 degrees. Into a large hot skillet place 1 pound ground beef, 1 chopped onion and 1 tablespoon minced garlic. Sprinkle a bit of salt and pepper over the top, give it a nice stir
and let it brown over medium high heat.
2. When the mixture has browned and the onions are translucent add 1 can of diced mexican stewed tomatoes. If you don't have diced tomatoes, just stick a pair of kitchen scissors into the top of your opened can and snip the tomatoes into chunks.
3. Pour in all three cans of tomato sauce,

green chilis and a can of drained and rinsed black beans.
Toss in 2 1/2 tablespoons of taco seasoning,
1 teaspoon lime juice,
1/2 cup sour cream and 1 tablespoon of butter. Give everything a nice stir and let the mixture come to a boil allowing all of the ingredients to warm up.
4. Remove the pan from the heat and spray a 9×13 pan with cooking spray.
5. Cover the bottom of the pan with about 1/2 a cup of the saucy filling. Lay 3 tortillas out over the mixture.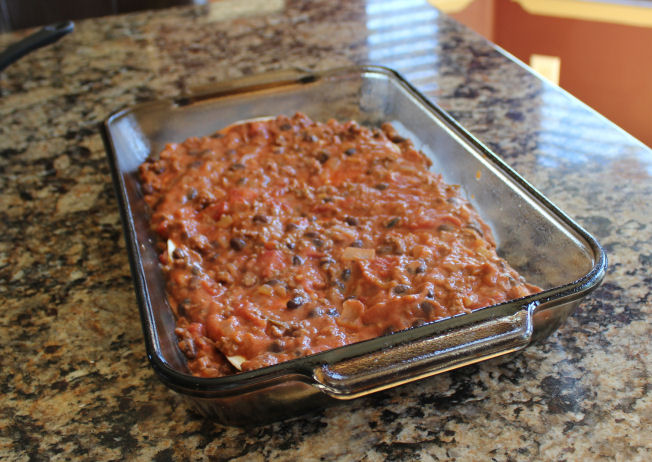 6. Cover the tortillas with one-third of the meaty sauce.
7. Cover the sauce with about 1 cup of cheddar cheese. Add three more tortillas, one-third of the meat sauce and 1 cup of cheese. Repeat these layers once more…
and there you have it, ma'am. (Or sir) A fine-looking casserole fit for hungry parents and children alike.
8. Cover it all up with some tin foil and bake for 45 minutes or until hot and bubbly throughout. Let it sit for 10 minutes once you have taken it out of the oven, then serve.
It's great with Cilantro Lime Rice, lettuce, tomato, chips and salsa.
Enjoy!