If you love a tender, juicy, packed with fabulous flavor grilled steak…then this recipe is for you, ladies and gentlemen. A simple marinade made from soy sauce and balsamic vinaigrette makes a  fabulous combination for this lean and tender cut of beef.
We ate it with Perfect Baked Potatoes (recipe HERE) and garden fresh tomatoes and basil drizzled with a balsamic glaze. Woah, baby. This might be my favorite meal of the summer. It's easy enough to make for a quick week night dinner, yet sophisticated enough to make for company. Can't wait to make it again! Bring on the beef. 🙂
Hope you give it a try, guys!
Balsamic Grilled Flank Steak
PRINT RECIPE
Time: 5 min prep + 4 hours marinating + 15 minutes grilling
Yield: 6 servings
Recipe from Jamie Cooks It Up!
1 (2 pound) beef flank steak
1/4 C balsamic vinaigrette dressing (Newman's or Kraft is good)
1/4 C soy sauce
1 tsp garlic, minced
1 tsp sugar
salt and pepper

1. Grab a 2 pound beef flank steak. I found some beautiful steaks at Costco that came in a package of three, two-pound steaks. Flank steak comes from the abdominal muscles of the cow and is a long flat cut of meat.  It's super lean, tender and very flavorful. They are packaged rolled up, like you see above.
2. Into a small bowl place 1/4 cup balsamic vinaigrette dressing and 1/4 soy sauce.
Add 1 teaspoon minced garlic…
and 1 teaspoon sugar.
3. Pour the marinade into a gallon sized Ziploc bag. Add the steak to the bag, making sure it gets covered with the marinade. Pop it into the fridge for 4-24 hours. Allow it to hang out on the counter for about 30 minutes before you are ready to grill. You don't want to put a super cold cut of meat on the grill, or it won't be as tender.
4. Preheat your grill to 350 degrees.
5. Lay a piece of aluminum foil onto your grill and spray it with cooking spray. Carefully place the meat on the foil and sprinkle it with salt and pepper.  You may want to tilt the edges of the foil up just a bit so the juices don't run off.
6. Close the lid and allow the meat to cook for about 7 minutes per side. The meat will shrink up quite a bit, don't worry about it. This is normal. You want to make sure not to over cook it. It's ok to leave it a little bit pink on the inside. It will continue to cook a little once you take it off of the grill.
7. Remove the steak from the grill and onto a clean plate. Loosely cover it with foil and allow it to sit for at least 5 minutes before slicing it.
8. Slice the meat against the grain, on an angle and into thin strips.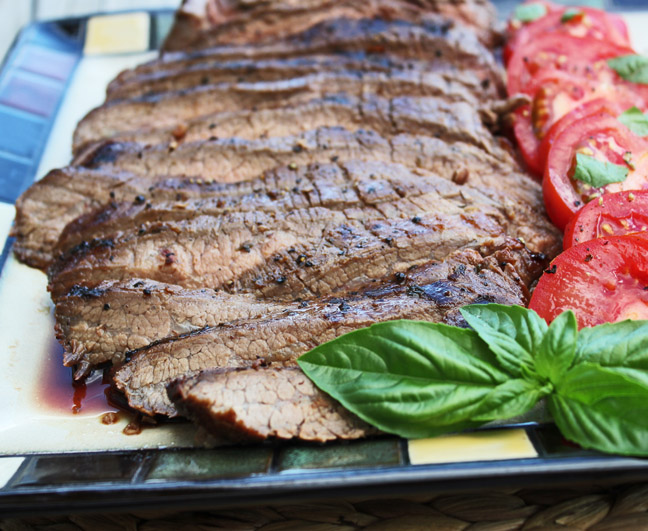 Serve…
and enjoy!
Love me some fresh basil. 🙂 So fabulous this time of year. For a few great,  fresh basil recipes click here, here and here.