Today is National Waffle Day, which is a pretty great thing, right? I brought along a recipe to share with you for Lemon Poppy Seed Waffles with Lemon Butter Cream Syrup. Just in case a few of you enjoy lemon, lemon and more lemon. I know I do. These waffles are light and airy on the inside, and slightly crisp on the outside. Add fresh blueberries, whipped cream and Lemon Butter Cream Syrup and this is an over the top, crazy delicious way to enjoy breakfast. They would be great for Easter or Mothers Day brunch.
I am also partnering today with 9 other bloggers to celebrate waffles. We have each developed a waffle recipe to share with you all. The other bloggers recipe links can be found at the end of this post. (They look fabulous, by the way!)
You can also follow the waffle fun on instagram at #celebratingfood2015 and #nationalwaffleday.
Lemon Poppy Seed Waffles
PRINT RECIPE
Time: 30 minutes
Yield: 12-14 large waffles
Recipe from Jamie Cooks It Up!
WAFFLES:
3 C flour
2 Tb baking powder
1/2 tsp baking soda
1 tsp salt
1/3 C sugar
1 Tb poppy seeds
3 eggs,  beaten
2 1/2 C milk
1/2 C canola or vegetable oil
1 Tb fresh lemon juice
3 Tb butter, melted
LEMON BUTTER CREAM SYRUP:
Recipe found by clicking HERE 
1. Into a large mixing bowl place 3 C flour, 2 Tb baking powder, 1/2 tsp baking soda, 1 tsp salt, 1/3 C sugar and 1 Tb poppy seeds. Toss the ingredients together with a fork to combine.
2. In a separate mixing bowl whisk 3 eggs together until frothy.
3. Add 2 1/2 C milk and 1/2 C oil.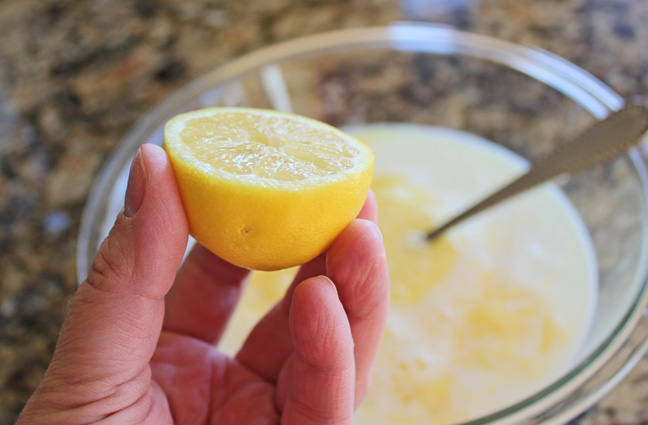 4. Add about 1 Tb fresh lemon juice and pour the wet ingredients into the dry.
5. Whisk it all together with a fork. When almost all of the batter is well incorporated add 3 Tb melted butter.
Whisk it in. The batter should be slightly lumpy still.
6. Spray a hot waffle iron with cooking spray and carefully scoop or pour the batter into it.
You'll want to be careful not to get too much batter into the iron. I like to leave the edges of the griddle bare, so the batter has a little space to spread out once you close the lid. Less mess to clean up later, yes?
Lovely!
Serve with fresh blueberries, whipped cream and warm Lemon Butter Cream Syrup, recipe found HERE.
Now that is a great collection of waffles, indeed it is. You can find these recipes at the links below, starting from the top left corner and going clock wise.
Waffles with Maple Nut Buttercream Sauce from Summer Scraps
Cinnamon Roll Waffles from Creations by Kara
Golden Butter Waffles from Like Mother Like Daughter
Vanilla Orange Waffles with Butter Syrup from Butter with a side of Bread
Lemon Poppy Seed Waffles with Lemon Butter Syrup from Jamie Cooks It Up!
Whole Wheat Raspberry Liege Waffles from Happy Food Healthy Life
Churro Waffles from Cupcake Diaries
Liege Belgian Waffles from Real Mom Kitchen
Gluten Free Banana Nut Waffles from Tried and Tasty
Coconut Liege Waffles from Ashlee Marie
Happy Spring! 🙂