These Coconut Cream Cookie Bars are seriously the most delightful thing to come out of my kitchen in quite some time. (Not that this Cheesy Chicken and Wild Rice Soup isn't divine…it is, truly!) But, there is just something spectacular to me when coconut is added to a recipe, my friends. These bars are no exception. A sweet, thick and chewy sugar cookie bar is topped with coconut cream frosting, sweetened coconut and then toasted coconut. The result?
Heaven. 😉
Hope some of you get a chance to try them!


Coconut Cream Cookie Bars
Ingredients
TOASTED COCONUT TOPPING:
1 C sweetened coconut
COOKIE BARS:
1 cup butter, softened
2 oz cream cheese, softened
1 3/4 cup sugar
2 large eggs + 1 egg yolk
1 tsp vanilla extract
1/4 tsp coconut extract
2 1/2 cups flour
1 /2 tsp baking powder
1 tsp salt
COCONUT CREAM FROSTING:
1/2 C butter softened (113g)
1 oz cream cheese softened (28g)
4 cups powdered sugar (500g)
½ tsp vanilla extract
1 1/2 tsp coconut extract
4-5 Tb half and half
dash salt
1 1/2 C sweetened coconut
Instructions
1. Preheat your oven to 350 degrees.
2. Grab a large cookie sheet and spread 1 C coconut evenly onto it. Toast it in the oven for 5-7 minutes, or just until it starts to turn golden brown. Watch it carefully. You don't want it to burn. Also, please be aware that toasted coconut gives off a fume that will burn your eyes if you look directly into the oven. When checking the coconut, open the oven door and allow the fumes to escape before you bend down to to look into the oven. 😉 When the coconut is toasted remove from the oven and set aside to cool.
3. To make the cookie bars add the butter and cream cheese to your stand mixer or large mixing bowl. Beat for 1-2 minutes or until smooth and creamy. Add the sugar and beat for another 2 minutes. Add the eggs and beat 1 minute more, making sure to scrape the bottom of the bowl a time or two. Add the vanilla and coconut extract and mix until combined.
4. In a separate bowl toss together the flour, baking powder and salt. Add it to the creamed mixture and mix just until combined.
5. Spray a 9x13 pan with cooking spray and press the dough into the pan.
6. Bake for 25 minutes, or until a toothpick inserted into the center comes out clean and the top is slightly golden brown. Cool completely.
7. To make the frosting, place the butter and cream cheese into your stand mixer or large mixing bowl. Mix until nice and smooth. Add the other ingredients (except the coconut) and mix until creamy. If it's too thick add a bit more half and half.
8. Spread the frosting over the cooled bars. Top with the un-toasted coconut. Press it gently into the frosting. Top with the cooled toasted coconut.
9. Refrigerate for 1 hour. Cut into bars and serve.
Enjoy!
https://jamiecooksitup.net/2017/10/coconut-cream-cookie-bars/
Recipe from www.jamiecooksitup.net
Recipe adapted from
Sugar Spun Run
Looking for more great Coconut Cream Recipes? Here are a few of my favorites!
Easy Coconut Cream Pie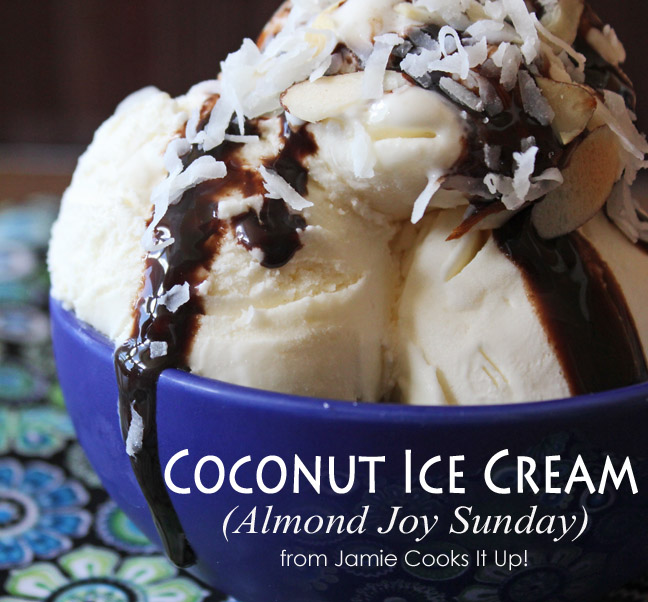 Coconut Ice Cream
Coconut Cream Cupcakes 
Coconut Cream Cupcakes