Soup season is upon us, my friends and I couldn't be happier about it! I love serving homemade soup and homemade bread for dinner. It's so comforting and wonderful. (Also, it works well for crazy afternoons when my kiddos are in and out. Soup left in the crock pot can be dished up and served in a hurry, after all.) This new soup recipe I brought along to share with you today is fantastic! It's slightly thick (not quite like a chowder, but almost), is loaded with shredded chicken, tender wild rice and cheddar cheese.
Hope some of you get a chance to try it!
Cheesy Chicken and Wild Rice Soup (Crock Pot)
Ingredients
3 chicken breasts (can use frozen)
1/2 onion, chopped
salt and pepper
1 C chicken broth
1 C water
2 (10 ounce) cream of chicken soup
2 (4.3 ounce) boxes Rice a Roni Long Grain and Wild Rice
2 C cheddar cheese
1/2 tsp thyme
1 tsp New Orleans Cajun seasoning
2 C half and half
Instructions
1. Grab a 3-4 quart crock pot and spray with cooking spray.
2. Place the chicken and chopped onion in the crock pot. Sprinkle with salt and pepper.
3. Mix the water, broth and cream of chicken soup together. Pour it over the top of the chicken.
4. Cover and cook on low for 6 hours, or high for 4 hours.
5. Shred the chicken with two forks and stir it into the creamy mixture.
6. Make the Rice A Roni packages according to box directions.
7. Add the rice, cheese, thyme, Cajun seasoning, and half and half to the crock pot and give it a nice stir.
8. Cover and cook on high for 20 minutes, or until the cheese is melted and the half and half has heated through.
Serve and enjoy!
Notes
Once refrigerated this soup will thicken up a lot. To serve leftovers, add a bit of milk before reheating.
https://jamiecooksitup.net/2017/10/cheesy-chicken-and-wild-rice-soup-crock-pot/
Recipe from www.jamiecooksitup.net
Recipe from Jamie Cooks It Up!
Looking for more Crock Pot Soup recipes? Here are a few of my favorites!
Crock Pot Tomato Basil and Chicken Soup
Potato Cheese Soup (Crock Pot)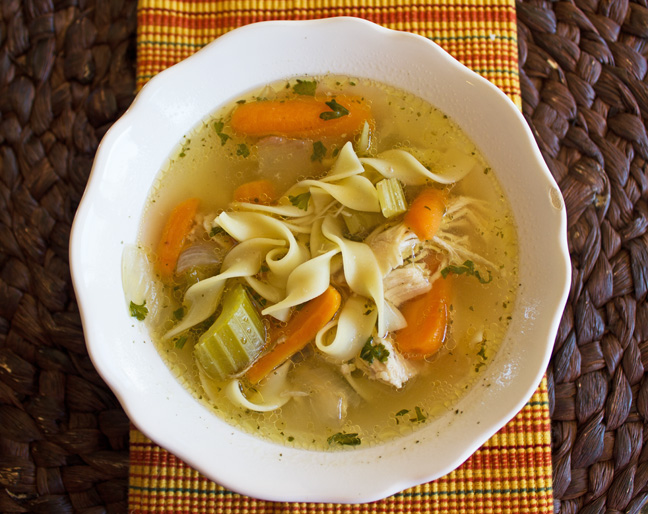 Crock Pot Chicken Noodle Soup
Crock Pot Chicken Enchilada Soup