I am going to let you in on a little secret.
I've never been a great beef pot roast maker. It's true. My pot roast usually comes out kind of tough and not very flavorful. I've researched the best methods for cooking the blessed meat and tried countless recipes.  Goodness knows I have even left it cooking in my crock pot with fingers crossed it would turn out wonderfully. Much to my dismay…it wasn't ever great. Just okay, and certainly not blog worthy.
Until now.
Thank heavens, I have finally found a pot roast recipe to love and cherish. My sunday dinners will never be the same! This beautiful beef roast is divine. Succulent, even! (Full of wonder). The meat turns out so tender you don't even need a knife to cut it. It simply shreds easily with a fork. The flavor is fragrant and rich. It cooks slowly in the crock pot drenched in wonderfully simple sauce. When the meat has cooked through you add a bit of cornstarch and cold water to the pot, which turns the sauce into a fabulous gravy. Serve it all with a side of mashed potatoes and life will be a beautiful thing. 🙂
Make this, my friends.
Make it and love it and give your crock pot a big fat kiss, won't you?
Monthly Menu Plan coming up on Monday, followed by an entire week worth of posts. Sugary, heavenly, Christmas-like posts my friends. 'Tis the season, after all. I've got some great things to show you! Hope you'll join me.  🙂
Now, let's make some roast. You, me and a beautiful chunk of meat.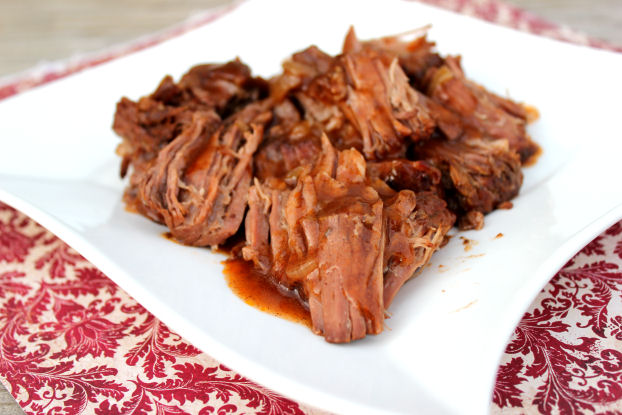 Time: 15 min. prep + 5 1/2 hours crock pot cooking
Yield: 8 servings
Recipe from Taste of Home
***NOTES: This recipe works best in a 5 quart crock pot. If you use a super large crock pot, the meat will cook faster resulting in a tougher, less tender meat. Also, if you leave the raw roast (in its package) out on your counter for about 30 minutes before you cook it, allowing it to come to room temperature before you sear it in a pan, it will stand a better chance of being tender. ***
1 (3-4 pound) chuck beef roast
1 1/2 C apple juice
1 (8 ounce) can tomato sauce
1 small onion, chopped
2 T vinegar
1 T salt
2 t cinnamon
1 T ginger
1/4 C cornstarch
1/2 C cold water
1. Find yourself a nice 3-4 pound beef chuck roast. Cut it in half with a nice sharp knife.
2. Heat a large, deep skillet up over medium high heat. When the pan is hot hit it with a bit of cooking spray and lay your pot roast in it.
Let the meat get a beautiful brown sear on both sides. Should take several minutes per side.
3. While your meat is browning, pour 1 1/2 cups of apple juice into a small mixing bowl.
Add 1 can tomato sauce,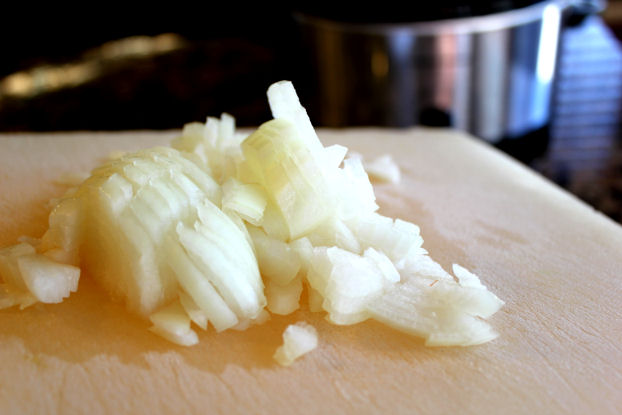 1 chopped onion,
2 tablespoons vinegar,
2 teaspoons of cinnamon,
and 1 tablespoon ginger. Give it all a nice stir to combine.
4. Spray the inside of your crock pot with cooking spray. Stack the slabs of meat, one on top of the other.
Pour the yummy sauce over the top of the browned meat. Cover the crock pot and on low for 5 hours, or until the meat easily shreds with a  fork.
5. In a small bowl combine 1/4 cup cornstarch and 1/2 cup cold water. Stir it until smooth. Pour it into the crock pot sauce. (Try not to get it all over the roast like I did!)
6. Stir the cornstarch mixture into the meat. Put the lid back on and allow the roast to cook for about 30 more minutes, or until the sauce has thickened.
7. Remove the meat from the pot and allow it to sit for 5 minutes.
Serve with mashed potatoes. Enjoy!