The ease of this recipe is going to please you, my friends. Not only are they simple to make but are flavorfully fabulous AND the ingredient list is super short. There are only 4 ingredients needed to make this tasty treasure come to life. And one of them is water.
Water, ladies and gentlemen.
I think you just might have some on hand, am I right?
Serve these Porcupine Meatballs with Cheesy Au' Gratin Potatoes or this delightful Loaded Mashed Potato Casserole. I also have a new potato recipe coming up for you on Wednesday that goes perfectly well with these. Hope you'll join me. 🙂
Now, let me show you just how easy they are to make…
***This is a great freezer recipe. Assemble the meatballs and cook them according to recipe instructions. Place them in a deep 9×9 pan and cover with foil and freeze. When you are ready to use them thaw completely. Pour 1/2 cup beef broth over the meatballs and bake, covered at 350 for 20 minutes or until heated through.
Time: 15 minutes prep + 30 minutes cooking
Yield: 25 meatballs (about 5 servings)
Recipe from my dear friend Cindi Schut
1 pound ground beef
1 (6.8 ounce) box Beef Rice A Roni
1 egg
2 1/4 C water
1. Grab 1 pound of ground beef and toss it into a medium-sized mixing bowl.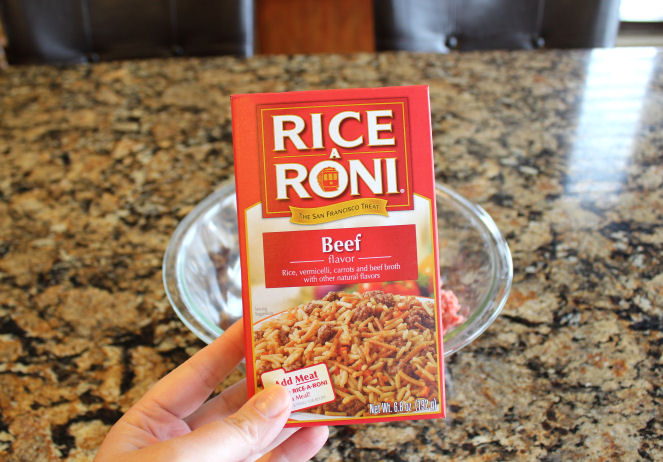 2. Pour 1 box of Beef Rice A Roni into the bowl. Be sure to only use the rice and pasta that are inside the box. Save the seasoning packet for later on.
Sound good?
3. Add an egg to the bowl and mix everything together with your pretty little hands. Just mix it all in now, no need to be shy. Make sure everything gets well combined.
4. Shape the mixture into 25 golf ball sized meatballs.
5. Heat up a large, deep skillet over medium high heat. Carefully place the meatballs in the pan. Allow them to get browned along the top and bottom.
6. Pour 2 1/4 cups of water into a large liquid measuring cup. Add the seasoning packet from the Rice A Roni box to the water and stir it in to combine.
7. Pour the liquid over the top of the browned meatballs. Reduce the heat to heat to medium low and allow the liquid to come to a simmer. Cover the pan and let the meatballs simmer away for 30-40 minutes or until the liquid has been absorbed and the rice and pasta in the meatballs are cooked through.
Serve and enjoy!
"Pin-able" tutorial below…