Before I tell you all about this loaded, flavorful, heavenly side dish of wonder… I would like to share with you something my kids and I have been enjoying lately. Because this blog is about sharing, you know. Sharing food, sharing a laugh or two, sharing a bit of inspiration, over sharing about my chubby hip size, and sharing more of my family life than you most likely want to know. 🙂
Thank you for listening.
A dear friend recently turned my kids and I on to ThePiano Guys. We have watched their videos no less than 2 bajillion times this past week. I would be remiss if I didn't lend them my support and inform you all of their awesomeness. They are a bunch of classic musicians who have filmed the coolest music videos.  This one titled Cello Wars (a musical Star Wars spoof) has entertained MyLittleTwinBoys for hours. I'm not kidding. While I appreciate it entertaining my little ones, it has also inspired them to practice their respective instruments much more than before. For this I am beyond grateful!  Everyone can use a little bit of inspiration in the "please do your practicing" department. This video, here is a great motivator as well.
You can see more of our favorites here, here and here. The music is beautiful! If you are a music lover, these videos are sure to please.
Anyhow, a shout out to any of you  Piano Guys…thank you, thank you from the bottom of my heart. Your work is amazing and very appreciated. Love it.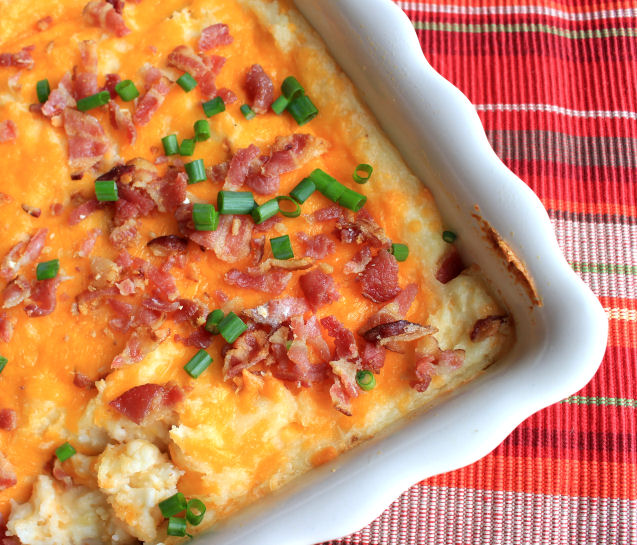 Now, this recipe is fabulous my friends. It tastes a lot like twice baked potatoes, only it requires fewer steps. Mashed potatoes are whipped with sour cream, butter and cream cheese. Bacon and cheese are added for extra flavor (who doesn't like bacon and cheese!), then it's baked with more cheddar cheese on top. Sprinkle more bacon and some green onions on top and you have a side dish of wonder, ladies and gentlemen.
It would be fabulous served with these main dishes…
Orange Glazed Ham
BBQ Pulled Pork Sandwiches
French Dip Sandwiches
Grilled BBQ Chicken
Time: 30 minutes prep + 30 minutes baking
Yield: 8 servings
Recipe adapted from MyDearMother
8-10  medium-sized russet potatoes
1 pound bacon
1/2 C butter
4 ounces cream cheese (1/2 of an 8 ounce package)
1/4 C sour cream
1/2 t season salt
1/2 C milk
salt and pepper
1 1/2 C cheddar cheese, grated
3 green onions, chopped

1. Peel 8-10 medium-sized potatoes. Chop them into large chunks and plop them into a large pot.

3. Pour hot water into the pot and get it onto the stove. Bring it to a boil over high heat. Once you have a nice rolling boil, reduce the heat to medium high (you still want it to be boiling nicely…not just simmering). Let the potatoes cook through. Should take about 15 minutes.

4. While your potatoes boil away, preheat your oven to 400 degrees and line a large jelly roll pan with tin foil. Lay one pound of bacon onto the sheet and let it cook in the oven until it's nice and crisp. Should take about 15 minutes. Once the bacon is done, remove the pan from the oven and turn the heat down to 350 degrees.  Remove the bacon to a plate lined with paper towels. Use another paper towel to dab the grease from the bacon.

5. When your potatoes are fork tender, remove the pan from the oven and drain the water into the sink.

6. Pour the drained potatoes into your stand mixer or large mixing bowl.

7. Add 4 ounces of cream cheese (1/2 of one 8 ounce package),
1/2 cup of butter,


1/4 cup sour cream,

a bit of salt and pepper,

1/2 cup of milk
and 1/2 teaspoon of seasoned salt.
8. Mix everything together until well combined. Give it a taste and add more milk if it is too thick.

9. Crumble up your bacon. Place half of it the mixing bowl.

Add 1 cup cheddar cheese and mix to incorporate.

9. Spray a 9×9 pan with cooking spray and spread the potatoes into the pan.

Top with the remaining 1/2 cup of cheddar cheese and bake uncovered for 30 minutes…

or until everything is nice and hot and the cheese has melted on the top.

10. Top with the remaining bacon…

and the chopped green onions.
Serve and enjoy!
Pinterest friendly image below…