Just typing the word "June" makes me feel all lighthearted and happy inside. Truly it does. My kids are  finishing up their last few days of school this week. Yesterday, I went with MyLittleTwinBoys and their kindergarten class to the school cafeteria to practice eating school lunch. Cute. Kindergarten is bursting with cuteness. I'm going to miss it.
Later that afternoon I found myself passing out yearbooks at the middle school. Wow, kindergartens and teenagers are definitely a contrasting pair, aren't they? Both cute, but one a bit more awkward than the other. And I don't mean the kids holding a lunch tray for the first time. Those teen years can be hard on a person. Hard in an awkward…who am I really, do I fit in, what should I be about, am I cute, do I stink, are my zits showing, is my hair too curly, is my hair perfectly strait, when am I going to grow arm pit hair…kind of way. Every time I show my face at the middle school I am reminded that I need to gird myself with patience for my kids who are battling through the teenage years. It can be a bumpy ride.
I am excited to have them all home for the summer. Kindergarteners, teens and one tweener all under one roof.
I hope I will still be excited about it a few weeks from now when we will, no doubt be driving each other sort of crazy.
Pass the chocolate.
And a trip or two to Bear Lake.
Can't wait. 🙂
I have my Monthly Menu Plan for you today. I tried to include a lot of easy dinner and crock pot recipes this time. There is also a section for Pot Luck and Dessert recipes. As usual colored titles are links back to previous posts. Black titles are recipes I'm working on and hoping to post in the near future.
Hope you find something to love!
DINNER:
Grilled Chicken (**pictured above), Strawberry Spinach Salad, Skillet Potatoes
Asian Lettuce Wraps (**pictured above) and Brown Rice
Grilled Turkey and Swiss,  (**pictured above) Fresh Fruit and Chips
Poor Man's Phily Cheese Sandwich, Sweet Potato Fries
Teriyaki Chicken and Noodle Bowl
Crispy Cheddar Chicken, Rice Pilaf with Almonds and Glazed Rosemary Carrots
Creamy Chicken Tacos (Crock Pot), Cheesy Spanish Rice
Hawaiian Meatballs (Crock Pot) and White Rice
Roasted Asparagus and Tomato Tortelini 
Cheesy Chicken and Wild Rice Casserole, Green Beans and Fluffy Dinner Rolls
Easy Buffalo Chicken Tacos
Easy Beef Strogonaff (Crock Pot), Peas and Fresh Fruit
Whole Wheat Blender Pancakes and Crustless Quiche
Crispy Won Ton and Chicken Asian Salad
Stuffing Chicken (Crock Pot) with Creamy Raspberry Jello Salad
Bourbon Chicken, Brown Rice and Saucy Sesame Green Beans
Simple French Bread Pizza and Olive Garden Salad
Beach Street Lemon Chicken
French Onion Burger of Wonder, Crispy Parmesan Oven Fries and Watermelon
Southwest Black Bean Chicken (Crock Pot)

Pretty Layered Overnight Salad
Pot Luck and Dessert Recipes:
Almond Butter Sheet Cake , Patriotic Style (**pictured above)
Pretty Layered Overnight Salad
Mexican Rice Salad
Sweet and Tangy brocoli Bacon Salad
Fluffy Strawberry Salad
Monster Cookies
Red, White and Blue Sandwich Cookies 
Recipes I am working on and hoping to post in the near future:
Crispy Bacon, Ranch Potato Salad
Guacamole Bacon Burger
Chocolate Pudding Cake (Crock Pot)
Fabulous Steak Marinade
BBQ Chicken Stuffed Baked Potatoes
Coconut Macaroons
Key Lime Pie
Homemade Pancake Mix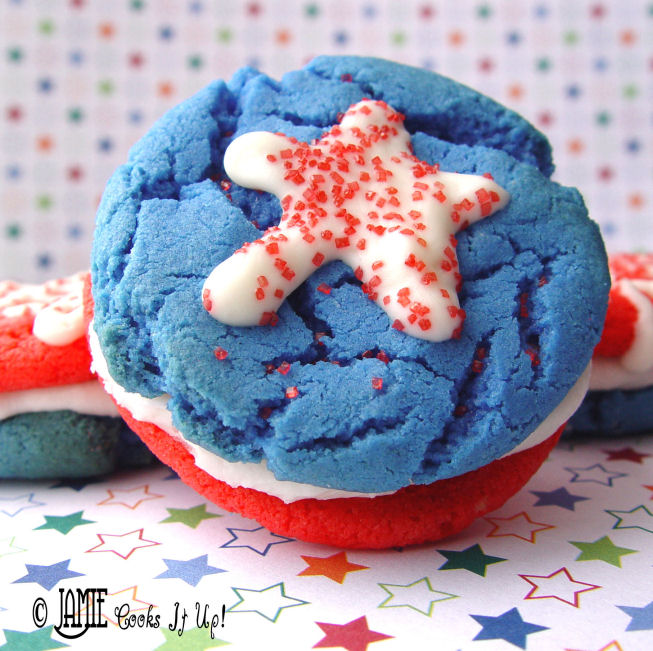 Red White and Blue Sandwich Cookies