I love this time of year.
I love seeing fresh produce stands, now and then, on the corner of a busy street or two. I get a kick out of lovely produce, I really do.  I adore fresh peaches especially.  Man, they have been good this year.   I haven't eaten a bad peach all season. My kids enjoy them as well and so we have been stocking up on them regularly.  We decided to make some simple alterations to my crepe recipe to compliment fresh peaches. A bit of cinnamon and vanilla did the trick.
My family gobbled them up in one clean sweep and have been requesting them ever since.
Makes a great breakfast, lunch, snack…hey, I think you and I could even get away with making these for dinner.
Like I mentioned…it's a pretty great time of year. 🙂
Let's make some crepes!
Cinnamon Vanilla Crepes with Fresh Peaches and Cream
PRINT RECIPE
Time: 30 minutes
Yield: 8-10 crepes
Recipe from Jamie Cooks It Up!
CINNAMON VANILLA CREPES:
1 1/2 C milk
1 C all-purpose flour
1 T oil
2 eggs
1/4 t salt
1 1/2 T sugar
1/2 t cinnamon
1 t vanilla
PEACH FILLING:
6-7 fresh peaches
1-2 T sugar
1/8 t nutmeg
Cool Whip or Whipping Cream
powdered sugar (optional)
1 Get out your blender and add 1 1/2 cups milk into it.
2. Add 1 cup flour…
1 tablespoon oil…
2 eggs, 1/4 teaspoon salt, 1 1/2 tablespoon sugar, 1/2 teaspoon cinnamon and 1 teaspoon vanilla.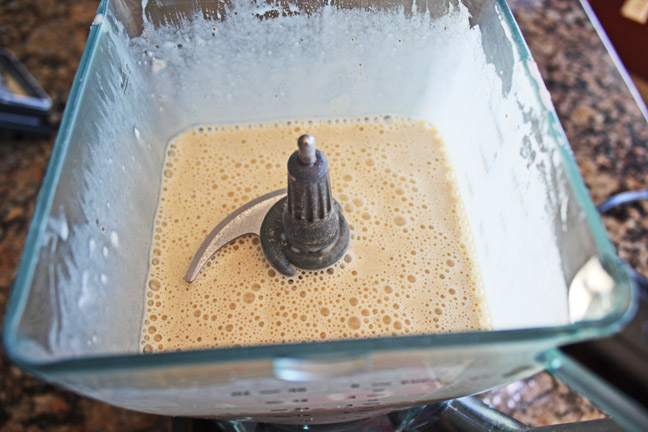 3. Blend it all up until it's nice and frothy. You may have to turn off the blender and scrape the sides down with a rubber spatula if the flour sticks to the sides.
4. Heat a medium-sized skillet up over medium high heat. Drizzle 3-4 tablespoons of batter into the bottom of the pan. You don't want to get it too thick. Just enough to cover about half of the pan. Then pick the pan up and tip it on its side to let the batter coat the pan.
5. Let it cook until the bottom is golden brown. Use a fork to turn up the side and then flip it over.
Like this. 🙂 Let it get brown on the other side and then transfer it to a plate. Continue cooking the rest of the batter in this manner.
6. Peel and slice your peaches and place them in a medium-sized mixing bowl. You can access a tutorial here.
7. Sprinkle 1-2 tablespoons of sugar and 1/8 teaspoon nutmeg over the peaches. Give it all a stir and let it sit for about 10 minutes. The peaches will get nice and juicy for you.
8. Spoon the peaches into the crepes and top with cool whip or freshly whipped cream (if you are super ambitious)!
Enjoy!
Pinterest friendly image…