Sophisticated enough to serve to company and easy enough to make on a busy weeknight, this Shredded Balsamic Beef Roast is a winner all around. The prep time is very minimal (about 10 minutes to get this beauty into the crock pot) and the FLAVOR…
Good glory, the flavor is down right scrumptious! There is something wonderful about letting meat slow cook in a sauce made from balsamic vinaigrette, soy sauce, sugar and garlic. I know many of you have made my Pork Roast with Vegetables and Gravy (which uses a very similar sauce as this recipe) and can attest to its fabulous flavor. I added some A1 sauce to this recipe and it pairs beautifully with the beef. Go figure, yes?
I had just finished taking pictures of this marvelous beef when my kids came home from school a couple of weeks ago and they absolutely devoured it. Seriously. There was no time for mashed potatoes, or any other side dish for that matter. Every single one of them loved it. I had to quickly put some aside for MyHandsomeHusband to taste test and he (self-proclaimed hater of beef) even loved it. Smiles all around. 🙂
Give it a try, gang!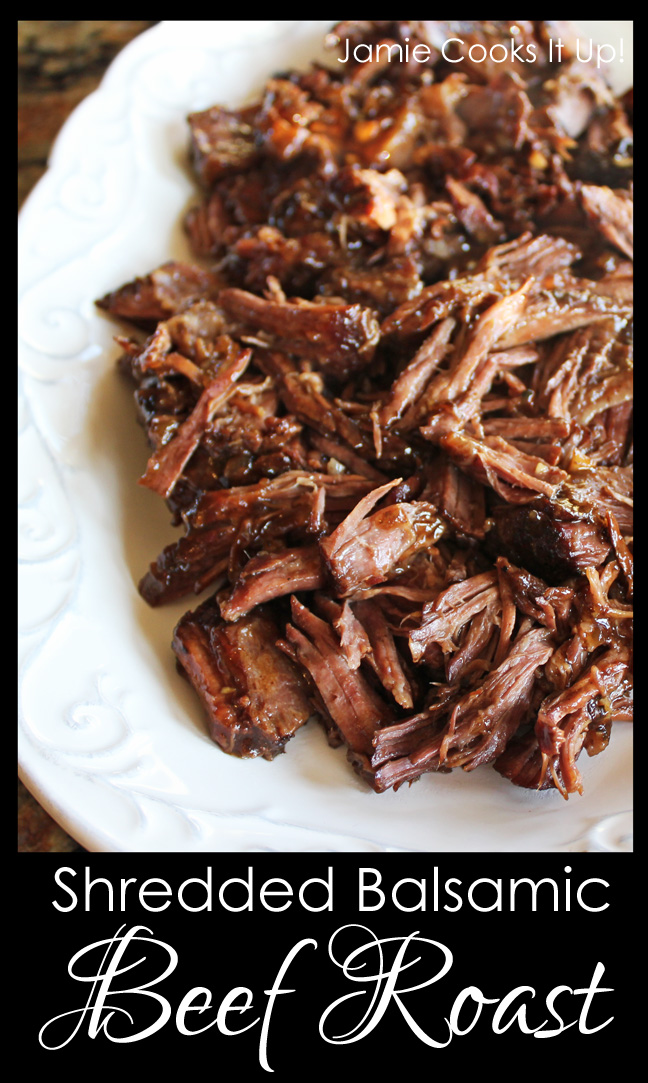 Make-Ahead Mashed Potatoes
Crispy Green Beans with Bacon
Fluffy Dinner Rolls
Chocolate Hot Fudge Cake
Shredded Balsamic Beef Roast
PRINT RECIPE
Time: 10 minutes prep + 4-6 hours cooking (depending on your crock pot)
Yield: 7 servings
Recipe from Jamie Cooks It Up!
1 (2 pound) beef chuck roast
salt and pepper
2 Tb olive oil
1/4 C soy sauce
1/4 C balsamic vinaigrette dressing (light or regular)
1/4 C brown sugar
1 Tb A.1. sauce
1 Tb minced garlic
2 Tb cold water
2 Tb cornstarch
1. Take a 2 pound beef roast (completely thawed) and sprinkle both sides generously with salt and pepper. Heat a large, deep skillet over medium high heat. Add the oil and when its hot place the beef inside the pan.
2. Allow it to get a nice brown sear on both sides.
3. Spray a 3-4 quart crock pot with cooking spray and place the beautiful beef inside.
4. Into a small mixing bowl place 1/4 C soy sauce, 1/4 C balsamic vinaigrette dressing (light or regular), 1/4 C brown sugar, 1 Tb A.1. sauce and 1 Tb minced garlic. Give it a nice stir to combine.
5. Pour the mixture over the top of the beef.
6. Cover and cook on low for 6 hours. Now, your crock pot might cook more quickly or slowly than mine, so keep that in mind when planning your meal. Better to give yourself more time than you think you need. I would check it after 5 hours, and if the meat will easily shred with a fork it should be done. You can always turn your crock pot to warm if it's done before you are ready to eat. 🙂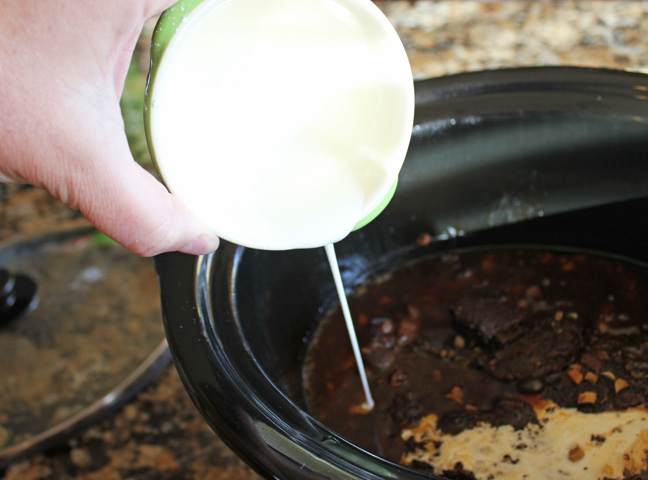 7. When the meat has cooked through and is tender, combine 2 Tb cold water with 2 Tb cornstarch and pour it into the crock pot. Stir it in a bit with a spoon. Cover and turn the crock pot to high. Allow it to cook for 30 minutes, or until the sauce has thickened.
8. Remove the beef to a serving plate and shred it with two forks, removing any of the fatty pieces. You can pour the thickened sauce (gravy) over the top, or over mashed potatoes.
Enjoy!