Hey there, gang. No new recipe today, just a post about the amazing girls camp my daughters and I attended last week. In our church, every summer the girls ages 12-18 and their leaders head off into the mountains for several days to experience beautiful nature, bond with each other, develop testimonies and have a rip-roaring good time. I am happy to report, that we did all of those. 🙂 With a heavy emphasis on the rip-roaring good time. This year the camp was run by our stake leaders and they did such a fantastic job. Seriously, the hours and hours of work they put in was tremendous. There were close to 300 youth and leaders total. Here are a few of the highlights…
These fine-looking girls are from my particular ward. I was recently assigned to work in the Young Women's program in my ward and can I just say it is such a great time. These girls are wonderful, fabulous individuals and I count myself lucky to work with them each week. It's also an added bonus that both of my daughters are involved with the program. Love them and love getting to spend time with them in the YW program. You can read more about the wonderful Young Women's program here.
Camp was held this year at Heber Valley. Wow, was it impressive! This is no rough-n-it camp. The accommodations were wonderful…
…and the nature gorgeous. There was a beautiful lake (which I failed to pack my camera to, dang it) where the girls got to pair up and canoe around.
The camp theme was "I can do all things through Christ who strengthens me" Philippians 4:13 and "Find strength in your journey". The girls were able to participate in some great activities that helped them to see their own strength and gain courage for the challenges of life.
Getting ready…
to climb…
a cargo rope…
…that leads to a suspensions bridge, that leads to a fun…
zip line. I was proud of them for making it through! They are brave girls.
One evening the stake put on an amazing "Unbirthday Party". As part of the theme, they had decorated the camp with all kinds of fun Alice In Wonderland decorations and quotes. When my girls and I got home from camp and were telling my husband about how great it all was, we kept saying things like "…you wouldn't believe how gorgeous all of the decorations were!" to which he kept saying things like "…wait, weren't you camping? I don't get it, why did they have decorations at a camp?"
I suppose, because that is what girls do, right? We find a way to make things pretty and fun. Seriously, the gals who put this together were amazing!
At the "UnBirthday Party" there were tons of long tables set up with these gorgeous decorations.
Giant tea cupswith adorable paper flowers…
clever, beautiful centerpieces…
My pictures don't do it justice, truly.
It was darling. Each ward came dressed to the party in matching hats we had made several weeks ago. Such cute girls. 🙂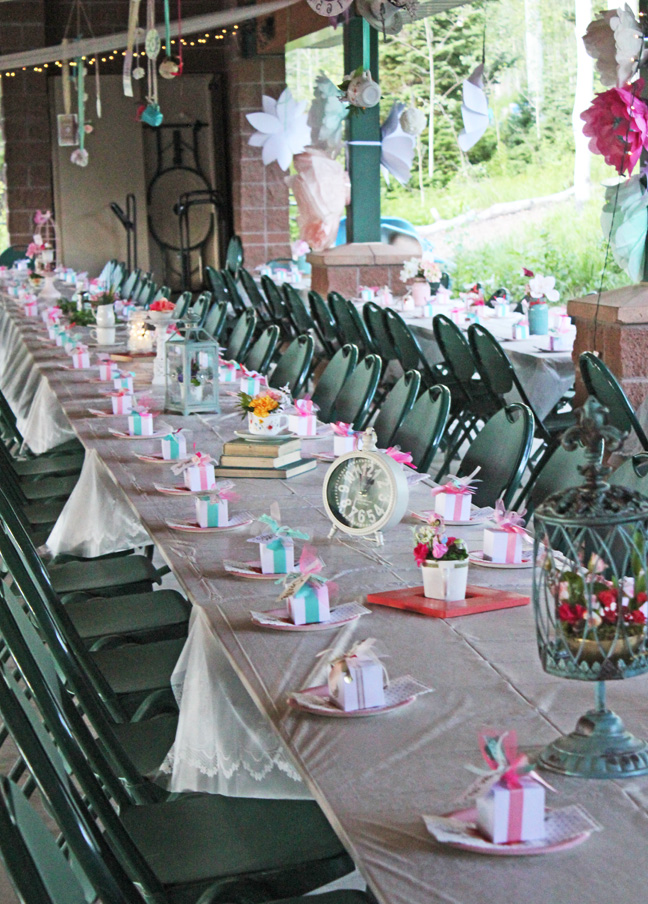 There was a place setting for each girl with a darling, wrapped gift.
Inside each box was a necklace with a few Alice and Wonderland charms on it. Each charm represented a way for them to find strength in their own journey. There was also an amazing dessert bar and crazy wild dance party that the girls loved. There were smiles all around.
We also spent a fair amount of time with just our own ward, talking and laughing and having a fun time. I had to snap a picture of this clever way to store cups. We had the girls wash their own cup after each usage and then hang it back up. Made for less garbage :).
One of the leaders in our ward put together this cute Secret Sister organizer.
Each girl had their own little compartment where a small gift and inspirational thought were placed each day.
Our ward camp director found these awesome bracelets (you can find them here) to give to our girls. The charm is of Christ and is stamped on the back with "2 Nephi 31:20″ which is the reference to a scripture in the Book of Mormon reading…"You must press forward with a steadfastness in Christ, having a perfect brightness of hope and a love of God and of all men."
We had a great time! Thanks to all of the amazing leaders who made it happen! It was a pleasure to attend.