Are you a "Salad for Dinner" kind of person? I know some people are opposed to the whole idea. 🙂  We love them around here, especially during the warmer months when cooking in the oven makes the house too hot. I realize, that your calendar says September and that many of you are experiencing cooler temps already…but we here in Utah are still having plenty of sunny days and I thought it fitting to share one more light and fresh meal that makes use of the grill.
This  great main course salad not only includes fabulous grilled chicken, but is loaded with super nutritious quinoa. Pair those two with crunchy cabbage, shredded carrots, salted peanuts and a killer sweet and savory dressing and you are sitting on my new favorite main course salad, ever. Now, don't be overwhelmed by the list of ingredients here. It comes together quickly. The chicken only needs to marinade for 1 hour and you can easily cook the quinoa and make the dressing while the chicken cooks on the grill. My family loved it and asked for it again. (Thank goodness!) Can't wait to taste it again myself! It's super good guys.
Hope some of you get a chance to try it!
Don't leave out the quinoa. It adds a great, grainy texture. 🙂
Ingredients
Chicken and Marinade:
12 chicken tenders
7 Tb yoshidas sweet and savory sauce
3 Tb soy sauce
1 Tb minced garlic
1 tsp sesame oil
Dressing:
2/3 C canola or vegetable oil
3 Tb peanut butter (chunky or smooth)
1/2 C sugar
1/4 C rice wine vinegar
2 Tb soy sauce
Salad Ingredients:
1 (16 ounce) package cole slaw
1 C shredded carrots
3/4 C salted peanuts
2 C cooked quinoa (red or regular)
1 red bell pepper, sliced
4 green onions, chopped
Instructions
1. Stir the marinade ingredients together in a large glass measuring cup.
2. Place the chicken in a freezer safe Ziploc bag and pour the marinade on top. Seal it tightly and allow it to sit in the fridge for 1-3 hours.
3. Heat your grill to 350 degrees and grill the chicken.
4. While the chicken is grilling cook the quinoa according to package directions.
5. Place all the dressing ingredients in a sauce pan and bring to a boil. Allow it to boil hard for 1 minute, then remove from the heat and set aside.
5. When the chicken has cooked through, place it on a plate and cover it with foil. Let it rest for about 5 minutes (this will ensure that is stays nice and tender).
6. Place all salad ingredients in a large bowl. Slice the chicken into strips and add it to the salad ingredients.
7. Pour the warm dressing into the bowl and toss all ingredients together.
Serve immediately and enjoy!
https://jamiecooksitup.net/2016/09/thai-chicken-salad/
Recipe from www.jamiecooksitup.net
Recipe from Jamie Cooks It Up!
Here are a few more great main course salads from my archives…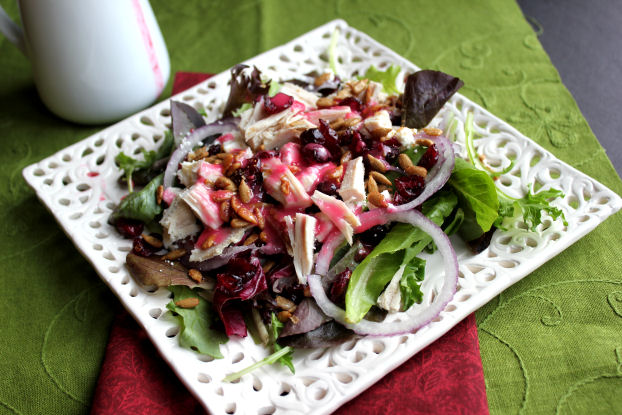 Kneaders Turkey Craisin and Sunflower Salad 
Grilled Teriyaki Chicken Salad 
Crispy Won Ton and Chicken Asian Salad 
Taco Salad 
Bruschetta Chicken and Pasta Salad