Love me a good crock pot recipe.
Love smelling something hearty and tasty just a simmering away all day while I do really important things like go to the grocery store, wipe sticky messes off my counter (I am a professional counter wiper, don't you know. It's really glamorous work) and wrestle around on the floor with my little twin boys.
This Crock Pot Chicken Enchilada Soup was a hit with my family. The flavor is wonderful! It only takes about 10 minutes to put it together…and it's healthy. 
I count that as a win, win, super win, hot diggity win.


Let's make it, baby. You and me. Ten minutes to a tasty meal for you and yours. 🙂
Chicken Enchilada Soup (Crock Pot)
Time: 10 min. hands on + 4 or 8 hours crock pot cooking
1 (14.5 ounce) can Mexican Style Stewed Tomatoes
2 (15 ounce) cans black beans
1/2 C red or green pepper, chopped
2 chicken breasts (I used frozen)
1 (10 ounce) can enchilada sauce
1 (10 ounce) can cream of chicken soup
4 chicken bullion cubes (or 4 t bullion granules)
1/2 t lime juice (can be bottled)
1. Pour the whole can of stewed tomatoes into your crock pot, juice included. Diced tomatoes work best…
but if you only have whole stewed tomatoes, like me :)…then stick some kitchen scissors into the pot and cut up your tomatoes. 
2. Drain and rinse the black beans and add them to the pot. 
3. Drain the corn and add them as well. 
4. Roughly chop up 1/2 C onion and 1/2 C of red or green pepper and toss them in. 
5. Pour the enchilada sauce into a medium sized mixing bowl. Add the cream of chicken soup,
  2 1/2 C milk and then crumble the bullion cubes over the top.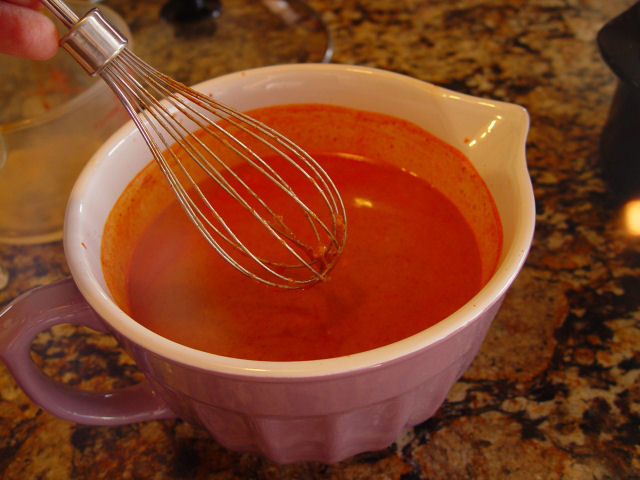 6. Whisk it all together until nice and smooth. 
7. Place two chicken breasts over the vegetables in your crock pot. (I used frozen)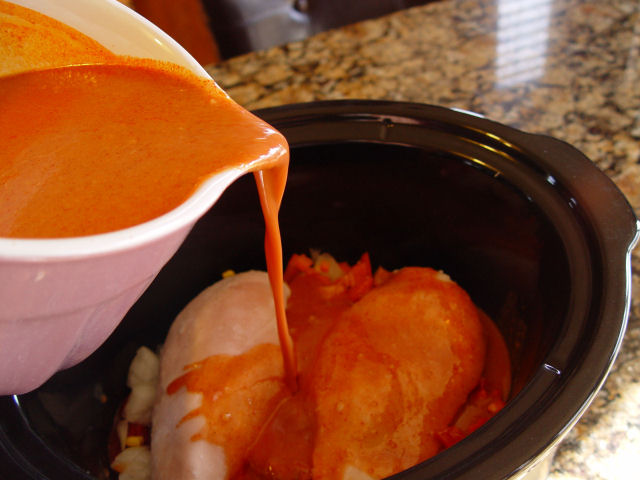 8. Pour the sauce over the top of the chicken.
9. Cover your crock and cook on high for 4 hours or on low for 7-8, depending on how fast your crock pot cooks things. 
10. Remove the chicken and place it on a plate. Shred it with a fork. 
11. Add the 1/2 t lime juice, 1/3 C sour cream and 2 T butter to the soup. Whisk it in until the butter has melted and the sour cream is well combined. 
12. Toss your chicken back into the pot, give it a stir and you are ready to eat. 
Serve with tortilla chips and cheddar cheese. Cilantro and avocado are also fabulous. 
Enjoy!
Pinterest friendly image below…