Just the other day, MyTeenSonMark came bounding up the stairs with a wonderful announcement.
"This totally hot girl just sent me a text." were his exact words, exactly.
"Oh, yeah?" I said. "That is totally cool and like totally wicked, man. What did she have to say?" was my very suave response. The boy just started high school and as all mothers of teen sons know, if you want the truth about things it's best to play it cool.  And suave. And both suave and cool, on a regular basis.
Before Mark could respond, one of my little twin boys (age 6) shouted out…
"I know what she said! I bet she said something like….hey, I just met ya…and this is craaaazy…..so here's my number…..so call me maybe."
The whole lot of us looked around and chuckled and giggled while both of my twin boys sang the entire Call Me Maybe song at the tippy top of their very loud lungs.
And then I went back to my sink full of dirty dishes, grateful for the reminder that it's really fun to have kids that are teenage-ish, and others that are kindergarten-ish. It's a good combo.
I highly recommend it. 🙂
These muffins are the perfect fall treat, my friends. They are soft, moist and packed with the flavors of fall. The maple glaze on top is absolutely divine. Great for breakfast, or as an after school snack. 🙂 Hope you enjoy them!
Apple Spice Muffins with Maple Glaze
PRINT RECIPE
Time: 10 minutes prep + 20 minutes baking
Yield: 18 muffins
Recipe from Jamie Cooks It Up!
MUFFINS:
1 C white flour
1 C wheat flour
1 C brown sugar
1 t baking powder
1/2 t salt
1 t cinnamon
1/2 t nutmeg
1/4 t cloves
1 C milk
1 t vanilla
1 egg, beaten
1/2 C butter, melted
1 C apple, diced  (I used golden delicious)
GLAZE:
1 1/2 C powdered sugar
1 t vanilla
1/4 t cinnamon
1 T maple syrup
1 T apple juice (or milk)
1 T butter, melted
dash salt
1. Preheat your oven to 350 degrees. Into a large mixing bowl pour 1 cup white flour, 1 cup wheat flour, 1 cup brown sugar, 1 teaspoon baking powder, 1/2 teaspoon salt, 1 teaspoon cinnamon, 1/2 teaspoon nutmeg and 1/4 teaspoon cloves.
Find yourself a nice sturdy fork and toss everything together until it's well incorporated, making sure any brown sugar clumps get broken up.
2. Pour in 1 cup of milk and 1 t of vanilla.
3. Melt a 1/2 cup of butter and add it to the bowl.
4. Take a wooden spoon and give the ingredients a nice stir. Don't mix them too much, you just want the wet ingredients (mostly the butter) to get covered up and cool down a bit so when you add the egg it doesn't get cooked in the hot butter.
5. Crack an egg into a small bowl and whisk it until fluffy. Add it to the mixing bowl. Stir it in, just until combined.
6. Peel and core and apple. Slice it up thinly and then dice it into small chunks. Add it to the muffin batter and gently stir it in.
7. Line a muffin tin with 18 muffin liners. Scoop the batter into each liner, filling them only 2/3 full. Pop them in the oven and let them bake for 20 minutes.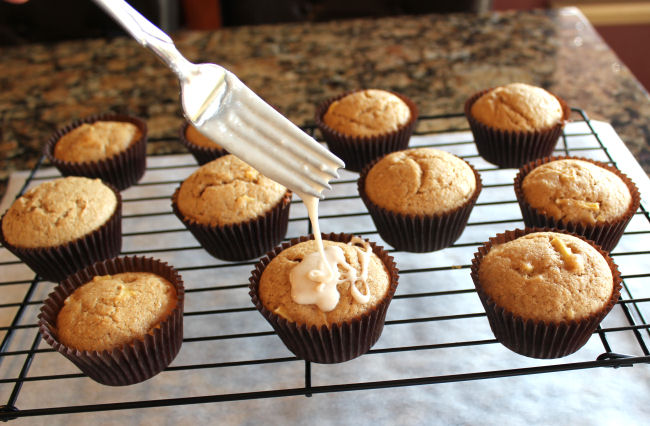 8. While the muffins bake make the Maple Glaze. Find yourself a small mixing bowl and pour 1 1/2 cups powdered sugar, 1 teaspoon vanilla, 1/4 teaspoon cinnamon,
1 tablespoon apple juice (or milk), 1 tablespoon melted butter, 1 tablespoon maple syrup and a of dash salt into it. Whisk it together until smooth.
9. When the muffins are done baking take them out of the oven and let them rest in the tins for about 5 minutes. Then place them on a wire rack. While they are still warm from the oven drizzle the glaze over the tops. Be sure to place a piece of parchment paper under the rack to catch any glaze they may run off of the muffins.
Serve and enjoy!