This week I will be posting each and every day, because it's October for crying out loud..and there is fun to be had. Fun wearing costumes, getting together with family,  taking treats to neighboors, helping out with school parties and such.  And so, all of the recipes I post this week will be Halloween related. My kids and I have been making a great disaster of our kitchen getting ready to share some cool things with you all.
To kick off the week I wanted to highlight some past Halloween recipes (scroll to the end of the post), as well as give you some ideas for games and activities that can be enjoyed at a Halloween party for kids. Halloween is really all about kids, isn't it? Cute kids all dressed up and very large buckets of candy. 🙂
First let's talk about Halloween Party games and activities, okay?
This lovely lady pictured above is my dear mom, a.k.a. Grandma Pam. We call her Grandma Pam because she is a grandma, and her name is Pam.  We are a really clever family. She is a wonderful lady, as I have mentioned in the past. Grandma Pam throws a killer Halloween Party every year. All of my siblings (6 of us, including myself) and our children (15 kids in all) attend. The kids wear Halloween costumes,
we eat dinner together (watch for a recipe for the Witches Brew you see in the picture, coming tomorrow) and then there are fun games for the kids.  The following is a list of the games and activities (complete with instructions) my Mom puts on for the kids. Please allow me to inform you that she has a very large, deep well full of patience built right in to her soul. It's true. If you met her, you would understand what I mean. The woman is really wonderful and not just becuase of the cool Halloween Party she throws every year. Truly.
ACTIVITIES AND GAMES FOR A HALLOWEEN PARTY
1. Germ Free Bobbing For Apples
You might be wondering…what in the wide world is that weird apple doing on a weird string, this sounds like a super wierd party. It is kind of crazy, in a very sanitary sort of way.  Here's what you are going to do. Find yourself 10-15 apples, attach a long piece of string to each apple with a piece of duct tape.  Tie the other end of the string to a tall structure. My mom always ties them to the monkey bars that are part of the swing set in her back yard.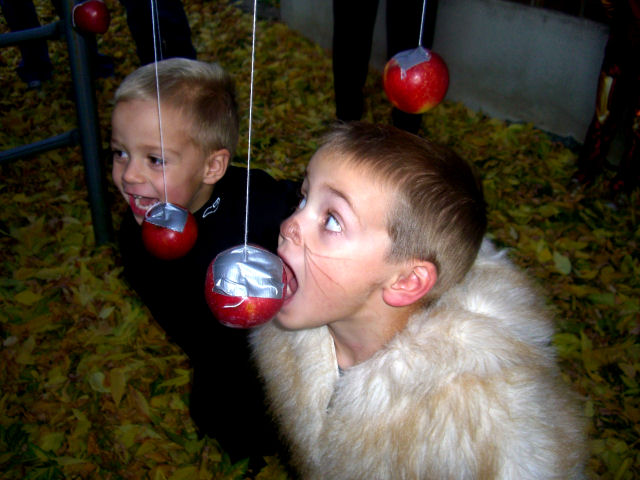 Then ask the kids to try to pull the apple from the string, without using their hands. They can bite it, head-butt it…even try and pinch it between their head and shoulder. (The latter is actually the easiest way to get it off the string)
It may seem a bit tricky for little kids, but they usually seem to figure it out.
2. Halloween Bingo
You can't have a Halloween Party without a good game of bingo, am I right! The bingo game you see in the picture is one that my mom has had for years. I did a little online searching for free Halloween Bingo Printables. Check out this one from The Crafting Chicks. It's super cute!
3. Monster Brains Treasure Find
Boil some spaghetti noodles according to package instructions. Drain and rinse them in cool water. Place them into a bowl with some vegetable oil. Toss little plastic spider rings into the bowl. Turn off the lights, or blindfold each child. Have them put their hand, one at a time, into the bowl and dig through the "monster brains" to find one of the spider rings.
4. Friendly Spider Web Toss
Have all the children sit in a large circle. One player chooses someone in the circle, sais something nice about them and tosses them the yarn while still holding on to the end of the string. The player who catches the ball repeats the action, making sure to hold on to a piece of the string. The ball continues to be tossed until all players have had a turn. The yarn makes a cool spider web shape.
 5. Fishing For A Trick or Treat Bucket Of Fun
Prepare a trick or treat bucket for each spooky guest at the party. Fill it with all basic trick or treating needs, such as; a flashlight, a whistle, a barf bag, etc. Then hide them all behind a large table covered with a sheet, or on your stairs with a sheet covering the railing. To make a mock fishing pole, tie a large clip to the end of a rope and attatch the opposite end of the rope to a large pole (a broom works nicely). Let each child use the fishing pole, one at a time. Toss the clip over the banister or table and secretly clip the trick or treat bucket to the rope. Tug on the rope and let the spooky party guest know…the fish has bitten and it's time to reel him in.
6. Trunk or Treat
All adults attending the party bring a bag of Halloween candy. All of the kids then run around with thier newly aquired trick or treat bag and flashlight and collect candy from each car, in the formal "trick or treat" fashion.
This is the recipe my mom used for sugar cookies when we were growing up, and the recipe we still use now. The cookies turn out SO super soft and wonderfully well. You can let the kids decorate them with different frosting or cake decorating tips. Or, bust out the sprinkles and candy corn and let them go to town.
Can you believe Grandma Pam fits all of those activities into one party! She totally does, every single year.  Did I not metion her deep well of patience. It is deep, man. As you now see. 🙂
The following are recipes to previous posts, that would be fun to add to your Halloween Party, or Halloween Day festivities.
FUN HALLOWEEN RECIPES GREAT FOR KIDS

Hope to see you all week… more Halloween recipes lay in wait for you and your spooky family. 🙂