A couple of weeks ago, my sweet sister-in-law Mary sat me down and said "I've got to tell you about the yummiest thing I made with The Turkey Breast of Wonder."
Please, won't you! Was my reply. I'm all about the Turkey Breast of Wonder, you know.
She explained how she had a cabin full of friends to feed so she tossed The Turkey Breast of Wonder into her trusty crock pot. When it was done she sliced open a loaf of french bread, spread a bit of mayo and cranberry sauce all over it and layered it with turkey and stuffing. Then she covered everything with provolone cheese and let the old girl broil in the oven until the cheese was golden and melted and fabulous.
Her friends loved it, she loved it and she had a pretty good idea you and I would get a kick out of it, too.
Now I can't speak for you all, but in my book this sandwich gets a 5 star rating. You could enjoy it with your Thanksgiving leftovers. You could make it for a hungry crowd of teenagers, or for your guests on game day (aren't there a lot of sports being played currently?) You could even make if for regular old dinner, I don't think you would have any complaints. My family loved it.
Hope you enjoy the sandwich! Happy Thanksgiving, everyone! I hope you have a wonderful holiday. I've got my fingers (and toes) crossed that all of your food turns out just fabulously. 🙂
Time: 15 minutes
Yield: 6-8 servings
Recipe from my sweet sister-in-law Mary Ehrhart
1 loaf french bread
1/2 C mayonnaise (I used Best Foods Light)
1 C cranberry sauce (I used whole berry cranberry sauce)
2-3 C turkey, cooked and shredded (I used this recipe for Turkey Breast of Wonder)
2-3 C stuffing/dressing (I used Stove Top)
6 large slices Provolone Cheese
1. Grab yourself a nice loaf of french bread and cut it in half-length wise.
2. Spread 1/4 cup of mayonnaise over each bread half.
3. Spoon 1/2 cup of cranberry sauce over each bread half and then spread it out with a knife.
4. Arrange 2-3 cups of shredded turkey over the cranberry sauce.
5. Sprinkle 2-3 cups of stuffing over the top of the turkey.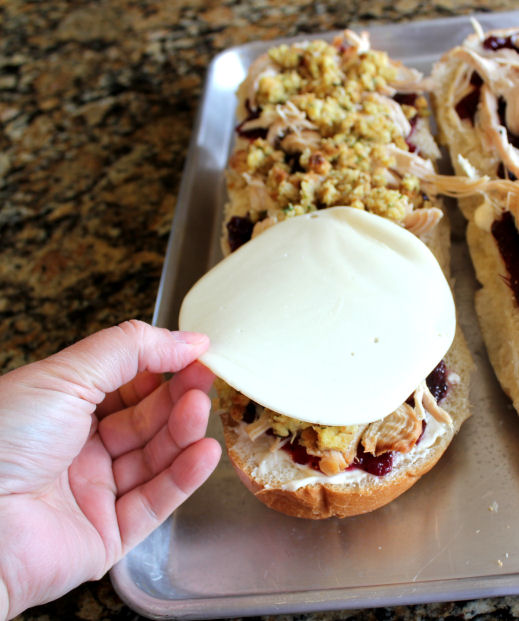 6. Lay some nice, big slices of provolone cheese over the top of the stuffing.
Like this. 🙂
7. Turn your oven to broil. When your oven is hot and ready, pop the sandwiches into the oven and let the cheese get golden brown and bubbly. Watch it carefully now, you don't want the cheese to burn. My cheese was melted and perfect after about 5 minutes, but your oven may broil faster than mine.
8. Let your sandwich cool for a minute or two and then slice and serve.
Enjoy!