If you missed my list of 10 Wonderful Winter Reads, click here to view it and enter the giveaway.
I have been fiddling around a bit lately with my Fluffy Dinner Rolls recipe. Not because it's broken or anything. 🙂 For the past couple of years it has been my go to recipe for quick rolls on a weeknight or for sunday dinner. However, I wanted a great roll recipe that can be made in 60 minutes or less, tastes fabulous and incorporates some wheat flour. (Without any groans, or comments like…"Um, Mom. What are you trying to pull here? These rolls have wheat in them don't they? They look like a hockey puck!") Comments like that sometimes spill out of the mouths of the children living here. I try to just smile and take it in stride. I don't like to eat hocky puck rolls either.
So, I have been tweaking and fiddling with my list of ingredients, working towards a fluffy (non hocky puck textured) honey wheat roll my family would enjoy. I am really quite superbly pleased to let you know that this final Fluffy Honey Wheat Dinner Roll recipe I have for you today has received the thumbs up from every member of my family. My crew loves them so much,  I have made them 3 times in the past several weeks. They are that good.
Hot.
Dang.
Let me show you how to make them. You, Me and your hocky puck of wonder.
Time: 60 minutes total
Yield: 16 rolls
Recipe from Jamie Cooks It Up!
2 C wheat flour
2 C white flour, divided
3/4 C hot milk
3/4 C hot water
1/4 C honey
1 t salt
6 T butter, softened
1 T yeast (I use active dry)
1.  Preheat your oven to 170 degrees.
2. Into a stand mixer place 2 cups wheat flour (I used freshly ground hard white winter wheat…but any wheat flour will do).
Add 1 cup white flour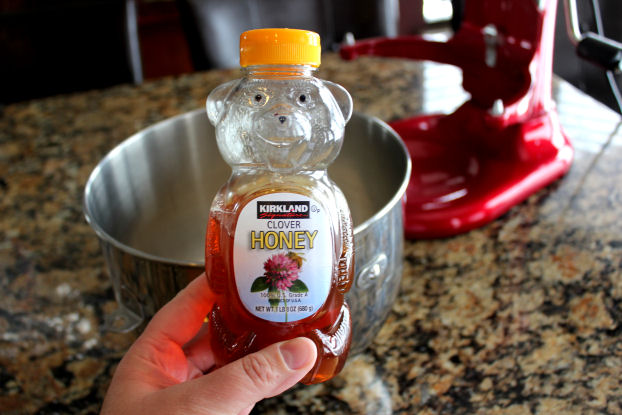 and 1/4 cup of honey.
3. Pour yourself 3/4 cup of milk and heat it up in the microwave for 2 minutes. Add it to the mixing bowl along with 3/4 cup hot water. Your hot water should be hot to the touch, but not so hot that it burns your hand when you touch it. 🙂
4. Add 1 teaspoon of salt and 6 tablespoons softened butter. Turn the mixer to low-speed and allow the ingredients to blend together for about 1 minute.
5. Add 1 tablespoon of yeast (I use active dry). Mix for about 30 seconds.
6. While the machine is mixing add 1 more cup of white flour. Allow the dough to mix for another minute or so. The dough should start to pull away from the sides of the bowl. This is an indication that you have enough flour. If the dough remains stuck to the sides of the bowl then sprinkle a bit more flour (up to 1/2 a cup) into the bowl. Once you have the correct amount of flour added, turn the mixer to medium speed and let the dough mix for 5 minutes.
7. Grab a 9×13 pan and coat the bottom and sides with some butter.
8. Place the dough into the middle of the pan.
9. Using a sharp knife, cut the dough into 16 equal pieces.
Then roll each piece into a ball.
10. Place the pan into your warm oven and let the rolls rise for about 15 minutes, or until doubled in size.
11. Turn your oven up to 350 degrees. Leave the rolls in the oven while the temperature rises. Allow the rolls to bake until golden brown. Mine took about 13 minutes.
12. Remove the pan from the oven and brush soft butter over the top of each roll.
13. Allow them to rest in the pan for about 5 minutes, then serve and enjoy!