This is the kind of recipe every home cook can appreciate. Especially on a busy day when a person finds him or herself face to face with a to-do list so long it could wrap its self all the way up to the moon and back. You know the kind of day I'm talking about, don't you. The kind where you find yourself with more activities to squash into 24 hours than should be legally allowed. 🙂
When you find yourself in such a situation eat a big fat chocolate bar, make this Teriyaki Chicken, won't you? It couldn't be simpler to put together and tastes wonderful. My whole family gave it two thumbs up. Ah, the sweet satisfaction of feeding a hungry family something fabulous that only took a few minutes to prepare.
Hope you enjoy it!
PS…if you are looking for a Teriyaki Chicken recipe to make on the stove top, give this Teriyaki Chicken and Noodle Bowl a try. It's one of my all time favorites.
Time: 5 min. prep + 5-7 hours crock pot cooking
Yield: 7 servings
Recipe from Jamie Cooks It Up!
5 chicken breasts (about 3 pounds)
1 1/2  C water
1 C brown sugar
1/2 C soy sauce
1 t granulated garlic
1 t sesame oil (optional, but wonderful)
3 T corn starch + 4 T cold water

1. Spray the inside of your pretty crock pot with cooking spray. (I used a 4 quart crock)
2. Place 5 chicken breasts into the pot. If you are using chicken that has been frozen, be sure that it is completely thawed before you add it to the crock pot.

3. In a separate bowl combine 1 1/2 cups water, 1 cup brown sugar, 1/2 cup soy sauce, 1 teaspoon granulated garlic and 1 t sesame oil. Give it a nice stir to combine and then pour it over the top of the chicken. Cover the crock pot and cook on high for 4 hours, or on low for 7.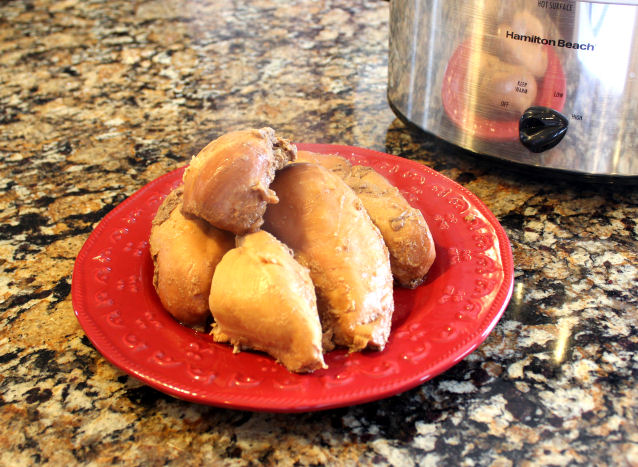 4. When the chicken is cooked through and easily shred-able remove it from the crock pot and place in on a plate.
5. In a small bowl combine 3 tablespoon of corn starch and 4 tablespoons of cold water. Pour it into the crock pot and stir it in thoroughly.
6. Take two forks and break the chicken breasts up a bit. I don't like to shred mine up too much, just enough that the sauce has a chance to spread through the chicken.
7. Place the chicken back into the crock pot and stir it around allowing the sauce to mix with the chicken.
8. Cover the crock pot and let the mixture cook and thicken for 30 minutes.
Serve over brown or white rice. Enjoy!