Oh, I love a good Italian style pasta salad. Fresh tomatoes, asparagus, olives, red onion, marinated artichoke hearts and parmesan cheese…all tossed together with pasta and a flavorful dressing. You could even add some shredded chicken and turn this lovely salad into a meal! Then please invite me over, won't you? I could eat this salad everyday and die a happy woman. I truly could.
Hope you love it!
Let me show you just how easy it is to put together…
Time: 20 min. prep + 1 hour refrigeration
Yield: 12 servings
Recipe from Jamie Cooks It Up!
SALAD:
1 pound fresh asparagus
1  (16-17 ounce) package corkscrew noodles
2 C grape tomatoes
1/2 C red onion, sliced
2 C marinated artichoke hearts, chopped
3/4 C parmesan cheese, grated
DRESSING:
1 (.6 ounce) package Good Seasons Italian Dressing
1/4 C white vinegar
3 T water
1/2 C vegetable or olive oil
1/4 t sugar
1. Grab 1 pound of fresh asparagus and rinse it with cool water. Chop the stubby ends off, they are pretty dry and tasteless. Toss them in the trash.
Then chop your asparagus into 1 inch pieces.
2. Boil some water in a nice large pot. Add your pasta
and cook according to the package instructions. When your pasta is almost done, toss the asparagus into the pot and allow it to cook there for about 2-3 minutes, or until fork tender.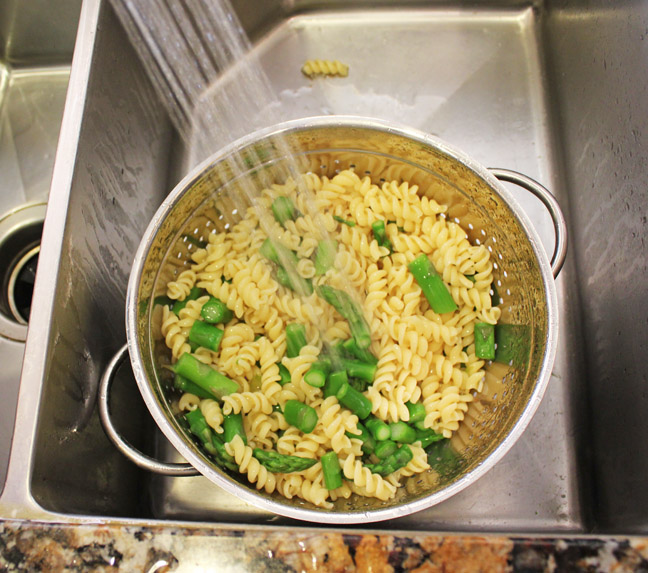 3. Drain the pasta and asparagus into a colander you have handily placed in your sink. Run lots of cold water through the pasta. You want to sure to bring the temperature down.
4. Throw the pasta and asparagus into a pretty bowl. Slice your tomatoes in half and add them to the pasta.
Throw in 1/2 cup sliced red onion,
a can of drained olives,
2 cups chopped artichoke hearts
and 3/4 cup grated parmesan cheese. Give everything a nice stir to combine.

5. Into a large jar (or small blender) place 1 (.6 ounce) package Good Seasons Italian Dressing, 1/4 C white vinegar, 3 T water, 1/2 C vegetable or canola oil and 1/4 t sugar. Seal the jar with a tight-fitting lid and shake the ingredients vigorously to combine.
6. Pour about 1/2 cup of the dressing over the top of the salad and give everything a nice stir. Cover the salad and refrigerate for an hour so the flavors have a little bit of time to hang out together.
7. When you are ready to serve toss the rest of the dressing with the salad.
Serve and enjoy!