I am going to let you in on a little secret.  This Chocolate Cream Cheese Pudding Dessert is MyHandsomeHusbands favorite dessert of all time.  It has a fabulous brown sugar short bread crust and layers of  cream cheese filling, chocolate pudding and cool whip. Yum. No wonder he loves it so! Both my Mom, and his Mom made it for our respective families when we were kids. (I bet you have had it before as well…it was a dessert staple in the 80's, am I right?)
Anyhow, my man often asks for it for his birthday or Father's Day. To my great frustration, I have ruined it MANY times.  Truly. For some reason I get the crust too thick, or dark, or crispy and we have to take a hammer to the blessed concoction just to break it up and eat it. Chizzle, chizzle, chip, chip.
I am Jamie Cooks It Up! Hear me roar.
This year when MyHandsomeHusband asked for it again for Father's Day (he's a patient man, right!) I put myself to work questioning my Mom with the ins and outs of how to make it happen. She gave me some tips on the crust (as I will show you in great detail below) and I am more than happy to report my family gobbled it up with happy faces and comments like…
"Oh yeah, this is it…this is like Grandmas."
"Really good, Mom…I guess you can keep blogging about food since you didn't ruin Dad's favorite dessert again."
"Sweet home Alabama, this is a dessert of heavenly wonder and bliss."
And it was really good. So good that I made it again yesterday, just because I knew I could.
Hold the chizzle, chizzle, chip, chip. 🙂
Chocolate Cream Cheese Pudding Dessert
PRINT RECIPE
Time: 45 minutes + 1 hour refrigeration
Yield: 15 servings
Recipe adapted from MyDearMom
CRUST:
1/2 C pecans, finely chopped
1 C flour
3/4 C brown sugar
1/2 C butter, softened
dash salt
CREAM CHEESE LAYER:
12 ounces cream cheese (1 1/2 packages) softened
1 1/2 C powdered sugar
1 t vanilla
dash salt
1 1/2 C cool whip
PUDDING LAYER:
1 (6 ounce) box chocolate pudding mix
3 C milk
CREAM LAYER:
3-4 C cool whip
1. Preheat your oven to 350 degrees.
2. Chop up 1/2 cup of pecans.
3. Into a medium-sized mixing bowl place 1 cup flour, 3/4 cup brown sugar, 1/2 cup softened butter and the chopped pecans.
4. Using a pastry blender (or fork, which is all I happened to have), mix the ingredients together. You don't want to over mix them, there should still be many clumps of butter throughout the mix. It should look like coarse crumbs.
5. Spray a 9×13 pan with cooking spray and then sprinkle the mixture into it. Press it gently down with your fingers. Pop it in the oven and let it bake for 10 minutes, or until the crust is golden brown.
6. Take it out of the oven and let it cool for 5 minutes. Then, when it is still warm take a handy spatula…
and break the crust up into pieces.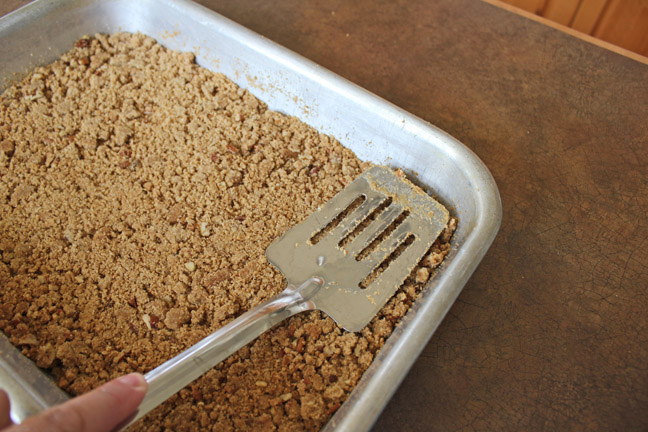 Then press it back down with the spatula and let it cool completely.
7. Into a medium-sized mixing bowl (or your stand mixer) place one large box instant chocolate pudding mix and 3 cups cold milk.
Beat it until it's nice and thick.
8. Into another medium-sized mixing bowl place 12 ounces softened cream cheese. Add 1 1/2 cups powdered sugar, 1 teaspoon vanilla and a dash of salt. Beat them until well combined and smooth.
9. Find yourself some thawed cool whip and add 1 1/2 cups to the bowl. Beat it until well combined.
10. Carefully spoon the cream cheese layer on the cooled crust. Take a knife and gently spread it over the crust. Now, please don't panic if some of the crust starts to loosen up and stick to the filling. Just be gentle with it and spread it carefully. If a little bit of the crust comes up, the world will not come to and end. I promise.
Just spread it out the best you can. 🙂
11. Cover the cream cheese layer with the pudding.
12. Place about 4 cups of cool whip on top of the pudding layer (between the cream cheese layer and the cream topping I used just shy of a 16 ounce container of cool whip).
Spread it all about.
13. Cover with plastic wrap and let it chill out in the fridge for at least 1 hour.
Serve and enjoy!