I have been making a lot of pancakes lately. My kids are out of school and home for the summer and man do they love a nice hot breakfast. Can't say I blame them. 🙂 I'm a sucker for a good breakfast myself and admit to caving more times than not when they ask for one. In an effort to speed things up in the hot breakfast department, I put together a Homemade Pancake Mix recipe. The mix will make about 5 batches (8 pancakes per batch), and will keep for up to 3 months.  All you have to do is add milk, egg and melted butter to the mix and vwalla…heavenly pancakes of wonder, in a quick fashion.
I made some printable tags to go along with the mix as well. 🙂 No need to search for a recipe once you put this mix together. Just whisk the ingredients up together and cook them on a hot skillet.
Let me show you how to make it happen!
Time: 15 minutes
Yield: About 5 batches of pancakes (8 pancakes per batch)
Recipe from Jamie Cooks It Up!
***Before you make the mix, check the expiration date on your baking powder to be sure it is stated to last quite a while. Store the mix in your pantry for up to 3 months.***
PANCAKE MIX:
6 C flour
4 T baking powder
1 1/2 t baking soda
1 1/2 t salt
6 T sugar
PANCAKES:
1 1/3 C pancake mix
1 C milk
1 egg, beaten
2 T butter, melted
HOMEMADE PANCAKE MIX
1. To make the Pancake Mix find a large bowl and add 6 cups flour,
4 tablespoons baking powder,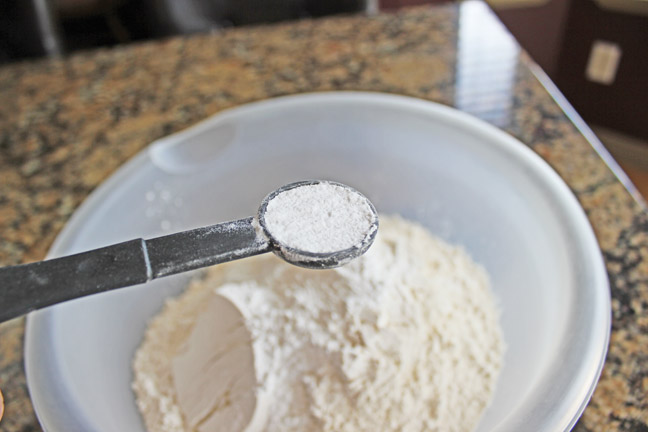 1 1/2 teaspoons baking soda,
1 1/2 teaspoons salt and 6 tablespoons of sugar.
2. Grab a fork and toss everything together. You want to be sure it gets well combined.
3. Find a couple of quart sized canning jars (or a gallon sized ziploc bag) and carefully place the mix inside.
4. Print off some handy labels (PRINTABLE FOUND HERE) and attach them to your jars, or ziploc bag…
Like this. Then you will be sure to remember what you need to make this mix into some  glorious pancakes. 🙂 Here's what you need to know to make that happen.
FABULOUS PANCAKES
1. Grab a small mixing bowl. Add 1 1/3 cup of pancake mix,
and 1 cup milk.
2. Crack and egg into a small bowl or measuring cup. (I reused the cup from measuring out the milk…why create extra dirty dishes, right!)
Take a fork and whisk the egg up until it's nice and frothy. Add it to the bowl. Whisk the ingredients together just until combined.
3. Melt 2 tablespoons of butter and add them to the bowl. Whisk them around until everything is well combined.
4. Heat up a skillet and rub just a bit of butter over the top of it.
5. Pour the batter out (about 1/4 cup for each pancake) onto the hot griddle. Allow the pancakes to become golden along the bottoms. Flip them over and let them cook on the other side as well.
Serve them up hot…
with butter and maple syrup.
Enjoy!