So, when a girl like me writes the word "GUILTLESS" in the title of a recipe you should be warned that it doesn't mean the recipe is totally carb free, gluten free, or calorie free. Pretty sure the only thing that meets those requirement is a nice cool glass of water which I bet you already have the recipe for. 🙂
"GUILTLESS" in my book, means you can eat one of these babies for lunch and pat yourself on that healthy back of yours, because you ate a nice vegetable packed, low-calorie sub of wonder and bliss. Truly, these Zucchini Marinara Subs are the best new zucchini recipe I have come across this season. I made them for lunch the other day and wow…I was in love, I tell you. They came  together is just under 20 minutes!
I gave myself a pat on my healthy back and took a few pictures to show you all.
Pictures of the subs, not my back. Come now, I would not put you through such torture.
Let's make them, man. You, me and those pretty zucchini hanging out in your garden.

Guiltless Zucchini Marinara Subs
PRINT RECIPE
Time: 20 minutes, start to finish
Yield: 6 servings
Recipe adapted from Real Mom Kitchen
5 small zucchini, chopped
1 small onion, diced
2 cloves garlic, chopped
1 T olive oil
salt and pepper
1/2 t Italian seasoning
1 C marinara sauce (I used Prego)
6 crusty buns
1 1/2 C mozzarella cheese, grated
1/2 C parmesan cheese, grated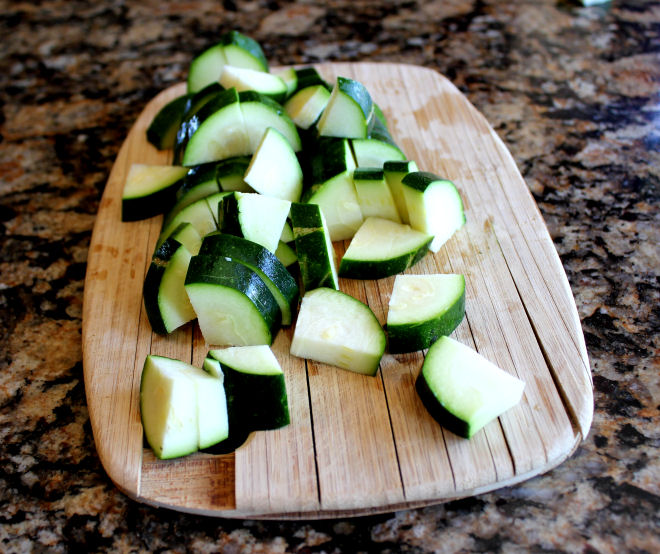 1. Grab 5 small zucchini and chop them into 1 inch pieces.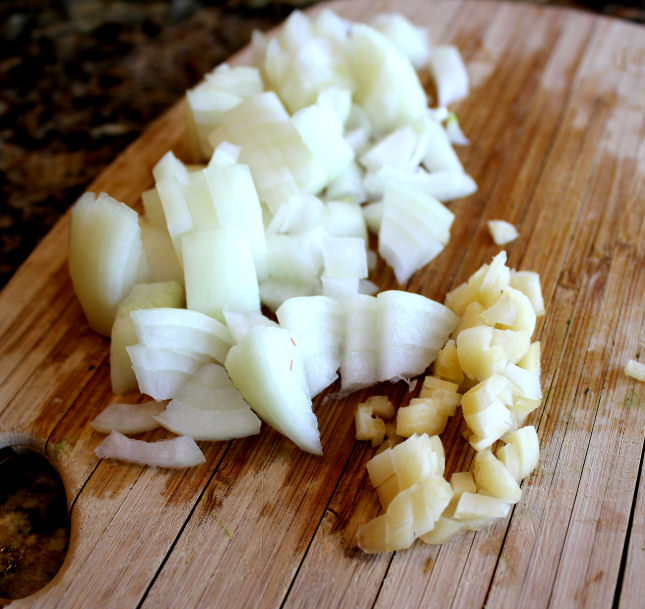 2. Chop 1 onion and 2 cloves of garlic.
3. Heat a large skillet up over medium high heat. Add 1 tablespoon of olive oil into the pan. Add the veggies and let them cook until crisp tender. Should only take about 10-15 minutes.
4. Set you oven to broil.
5. Grab 6 crusty buns…
and slice them in half, length wise. Line a large cookie sheet with tin foil and lay them out onto it.
6. Carefully place about 1/4 to 1/3 cup of mozzarella cheese on top.
7. Pop them into the oven and allow the cheese to melt and the edges of the bun to get crisp. Keep a close eye on them, it will only take a couple of minutes.

8. When your veggies are crisp tender add 1/2 teaspoon Italian seasoning…
and 1 cup marinara sauce. (I am aware that the marinara sauce  above is only 3/4 of a cup…I ended up adding a bit more later. Just trust me…1 cup will do you right. If you would like more saucy-ness, feel free to add more.)
9. Grab the heavenly, cheesy subs and pile on the yummy zucchini filling…
load it down, man. This is the guiltless part. I think I read somewhere that zucchini only has 10 calories per 500 pounds. At least, I think I read that somewhere.  Ok, so I maybe I just wish that were the case. Let's just suffice it to say, zucchini is low cal. Hallelujah. 🙂
10. Sprinkle each sub with a bit of Parmesan cheese, baby and dig in.
Enjoy! Here's to a healthy summer!!!!!