Across the street from me, lives a darling little family with the most darling little kids you have ever laid eyes on. I try to limit the number of times I tell them things like "Good heck, your kids are so cute!" and "Those are the most handsome kids walking this wide world." People start to look at you kind of funny once you have mentioned their beauty 1,000 times. So I try to only say it every other day, so things don't get awkward in the neighborhood.
Last week I found myself at the above mentioned home. The ladies who attend my church and I were having a progressive dinner. Shanna (the cute lady with the darling little kids) served us a fabulous salad with a heavenly balsamic dressing. She was kind enough to pass the recipe on to me. And to you. 🙂
The dressing is tangy, sweet and very simple to make. Pour it over the top of this wonderful salad made with tender lettuce, crisp pecans, salty feta cheese, soft and juicy pears and you will have a match made in heaven. I loved it. You could make it as part of your Thanksgiving feast, or your next ladies lunch, make it for Sunday dinner, or your upcoming family party of wonder.
Let me show you how to make it happen…
Balsamic Maple Dressing with Pear and Pecan Salad
PRINT RECIPE
Time: 15 minutes
Yield: 6 servings
Recipe from my sweet friend and neighbor Shanna Olsen
Note: The salad is best if the dressing and the chopped pear are added just before serving.  The dressing can also be made several days in advance and will keep for up to 1 week in the fridge.
DRESSING:
1/4 C real maple syrup
2 Tb balsamic vinegar
1/2 tsp Dijon mustard
1/4  tsp salt
1/4 tsp pepper
1/4 C canola oil
SALAD:
half (10 ounce) package Spring Mix Lettuce
1/2 C toasted pecans
1 ripe pear, chopped
1/2 C craisins
1/2 C feta cheese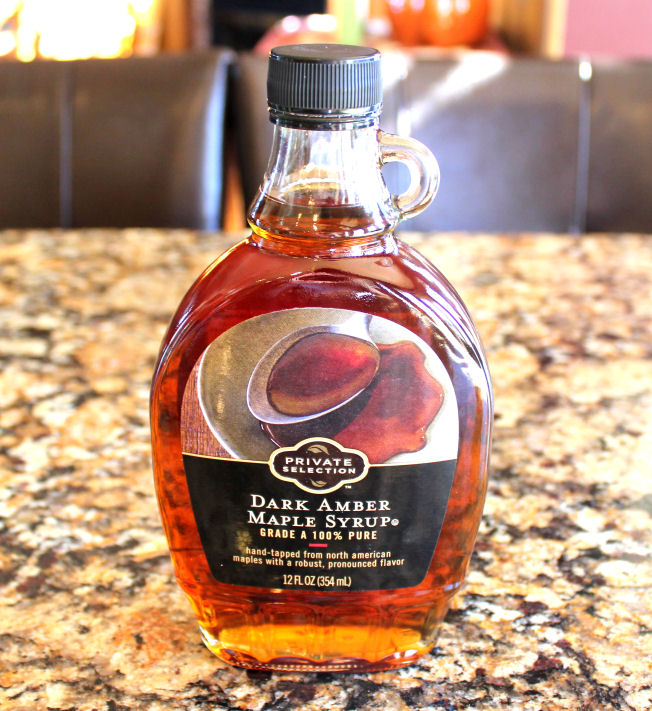 1. For the dressing you need real maple syrup. Now, regular maple syrup just doesn't cut it. Believe, me won't you? I took this recipe on a test drive with Mrs. Butterworth and she  didn't pass. Real maple syrup, please. Place 1/4 cup into your blender, or small  mixing bowl if you have an immersion blender.
2. Add 2 tablespoons of balsamic vinegar…
1/2 teaspoon Dijon mustard, 1/4 teaspoon salt and 1/4 teaspoon pepper.
3. Blend it well to combine.
4. Add 1/4 cup oil and blend it in.
For the salad you will need about half of a (10 ounce) package of Spring Mix Lettuce. I love this stuff. 🙂
Sprinkle it with 1/2 cup toasted pecans,
1 ripe pear, that has been chopped,
1/2 cup craisins
and 1/2 cup feta cheese.
Toss the salad together and top with dressing. Serve immediately.
Enjoy!