For those of you dear readers, that live in the Salt Lake area, and would like to support a great cause…our annual bake sale is coming up this Saturday (November 23) from 10:00 to 2:00 (or until we run out of goodies). This year our proceeds are going to our dear friend (Sweet Sister Rebecca Wann) who has been faced with more medical bills than she knows what to do with, due to her daughter's health issues. I am making Cinnamon Rolls and Fabulous French Bread. My friends and I also made 38 Pumpkin Rolls for the sale. There will be many more delicious items to choose from as well. Hope to see a few of you there! The address is 5041 Spring Heather Cir, Herriman Utah 84096. You can read about past bake sales HERE, HERE and HERE. 
I am about to introduce you to a revolutionary kind of meal.
Why is it revolutionary? You may be wondering…
Well just have a look, won't you! See with your own eyes, that every single ingredient needed to make these fabulous Italian noodles is placed into one solitary pot…brought to a boil and left to simmer away and cook into a flavorful delight. No need to cook the noodles separately and dirty another pot. Please do not feel tempted to saute the onions and garlic in a separate pan.  No ma'am, and no sir. We have on our hands here a One Pot wonder, yes we do. These Italian Noodles are loaded with flavor. If you have made and loved the Penne Pasta with Tomatoes and Spinach recipe from my archives, this recipe reminds me a lot of that one. However, this is a little more economical because it calls for canned tomatoes.
And did I mention, it's all cooked in one pot.
This will save you time.
Time looking for more pots, time washing more pots, time drying more pots and time putting away more pots. More time!
I knew you would be a fan, yes I did.
Let's make it!
Magic, One Pot Italian Noodles
PRINT RECIPE
Time: 10 minutes prep + 20 minutes cooking
Yield: 6 servings
Recipe adapted from Your Cup Of Cake
4 C chicken broth
1 (12 ounce) package linguine noodles
1 (8 ounce) bag fresh spinach
3 (15 ounce) cans Italian Stewed Tomatoes
1 onion, chopped
5 cloves garlic, chopped
1/2 Tb dried basil
1/2 Tb dried oregano
1/4 tsp red pepper flakes
1/2 tsp pepper

1. Pour 4 cups broth  into a medium-sized pot. Bring it to a boil.
2. Chop 1 small onion and 5 cloves garlic.
3. Grab 3 cans of Italian Stewed Tomatoes.
If you have diced tomatoes, that would be really awesome and preferable for this recipe. If not, just stick some cooking shears into the can and slice the tomatoes into smaller chunks.
4. Once your broth has boiled add an 8 ounce package of fresh spinach, you could add more if you choose. (I hear spinach is good for you and can change your life for the better). Add the cans of tomatoes, along with the wonderful juice in the can. Toss in the onion, garlic and pasta as well.
5. Sprinkle in 1/2 tablespoon basil and 1/2 tablespoon oregano.
6. Hit it with 1/4 teaspoon red pepper flakes. You can adjust this, per your liking as well. Add more if you like more heat, less if heat makes you perspire and pass out cold on the kitchen floor. The 1/4 teaspoon I have listed will give it just a slight kick, nothing my kids couldn't handle. Adjust to suit your fancy, please.
This is what it should look like. Pretty! Pretty enough for a picture, I'd say.
7. Bring it all to a boil over medium high heat and let it cook away, working it's magic.
The noodles will cook nicely for you, soaking up all of those wonderful flavors. Cook, just until the noodles are soft, but still have a little bite to them. Should only take about 20 minutes.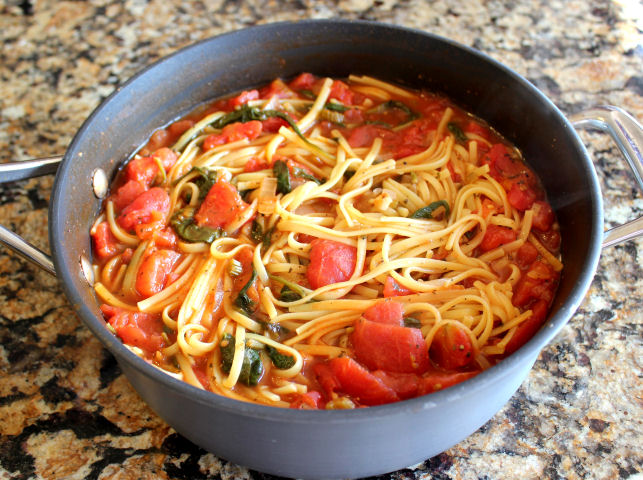 Please note, the noodles will continue to soak up the broth, even after it has finished cooking. Don't drain any of the liquid from the pan.
7. Scoop the noodles out into individual bowls and sprinkle with freshly grated Parmesan cheese.
Enjoy!