If you have been dying for an excuse to play with your food…well, I am giving you one. Right here and now on this beautiful spring day. These Cute Easter Cupcakes are a great little cooking project to do with kids, grandkids, school groups, youth groups…or just to make on your own and bring to Easter party. Not only are they fun to look at and make, but the cupcake and frosting recipe are super yummy. I wouldn't let you down in the "delicious" department, now would I? You know I would not.
Now, let me show you how fun these cute little guys are to make!
Time: 2 hours
Yield: 30 cupcakes
CUPCAKES:
1 box white cake mix
1/3 C flour
1 (3.4 ounce) box instant vanilla pudding mix
1 1/2 C water
1/3 C oil
4 egg whites
1 tsp vanilla
1/3 C sour cream
cupcake liners
BUTTERCREAM FROSTING:
1/2 C butter, softened
1/2 C butter flavored shortening
1 tsp vanilla
4-5 C powdered sugar
2-3 T milk
dash salt
food coloring gel in yellow, orange and green
zip loc bags (sandwich size)
DECORATIONS:
Sweetened coconut
regular green food coloring
yellow sugar crystals
white chocolate chips
semi sweet chocolate chips
pink jelly beans
Cadbury Mini Eggs
white paper
1. Preheat your oven to 350 degrees.
2. In your stand mixer or large mixing bowl, place 1 white cake mix, 1 box vanilla pudding and 1/3 cup flour. Toss it around just a bit to incorporate.
3. Add 1 1/2 cup water, 1/3 cup oil, 1 teaspoon vanilla, 4 egg whites and 1/3 cup sour cream. Mix on slow for 2 minutes. Scrape the bottom of the bowl and mix on medium speed for 2 minutes, or until the batter is nice and glossy.
4. Line your muffin tins with the cupcake liners. Fill each of the liners just a bit more than half way full.
5. Bake for 15-17 minutes, or until they are golden brown on top and a toothpick inserted into the center comes out clean.
6. Allow them to sit in the tin for 5 minutes, then transfer to a wire rack to cool completely.
7. To make the buttercream frosting place 1/2 cup softened butter and 1/2 cup butter flavored shortening into your stand mixer. Beat until the two are smooth.
8. Add 4 cups powdered sugar, 1 teaspoon vanilla, 2 tablespoons milk and a dash of salt. Mix until smooth and glossy. If it's too thin add a bit more powdered sugar. If it's too thick add a bit more powdered sugar. Full pictorial tutorial on Buttercream Frosting found HERE.
9. Separate the frosting into four bowls. Use the food coloring gel to color the frosting…
You will need about 1/4 teaspoon food coloring gel, per bowl. You want to be sure to leave yourself some uncolored and white. Also, you will need less orange frosting than the other colors.
10. Put about 1/3 cup of green, orange and yellow frosting into sandwich sized zip loc bags. Twist the bag right next to the frosting and place a twist tie around it. Cut a small hole in the tip of the bag.
Now! Good gracious, we are ready to decorate and make cute, cute things happen. I like cute…don't you?
BABY CHICS!

1. Pour some yellow sugar crystals into a small bowl.
2. Frost the top of a cupcake with yellow frosting…
then dip it into the sugar.
Cute!
3. Place two white chocolate chips into the frosting to make this little guy some eyes. Using the yellow frosting, pipe some feathers on the sides and top of the cupcake. Then grab the orange bag and pipe some little feet and a beak.
4. Use the green to pipe a little color onto his eyes.
Cute!
EASTER EGG NESTS
1. Pour 1 cup coconut into a small bowl. Add a few drops of green food coloring. Stir it around with a spoon allowing all of the coconut to get a bit green.
2. Frost a cupcake with green frosting.
3. Dip it into the green coconut.
4. Grab some Cadbury Mini Eggs. Now, would you agree with me that these eggs are seriously the most tasty Easter Candy known to man? They are chocolate heaven, I tell you.
Place a few eggs on the top of each cupcakes.
FLUFFY BUNNY 
1. Cut some bunny ears out of white paper. They should be about 3 inches tall.
2. Frost a cupcake with white frosting.
3. Pour 1 cup coconut into a small bowl and dip the cupcake into it.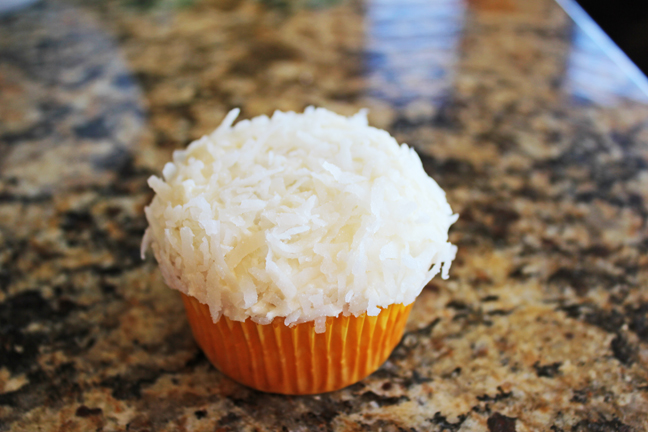 Like this.
4. Pinch the bottom of each ear and tuck it into the top center of the cupcake.
5. Add two chocolate chips for the eyes and a pink jelly bean for the nose.
Happy Easter!!!!!
See Pin-terest friendly images below…