With the summer quickly approaching (yipee!) I wanted to hurry and post one last soup recipe before the weather heats up and we start talking about grilling and homemade ice cream and other sunny pleasures.
This Chicken Red Quinoa and Brown Rice soup is a twist on the classic Chicken and Rice Soup. I was aiming for something a little more hearty, loaded with more veggies and packed with more nutrients. I added fresh, chopped spinach and opted to use quinoa and brown rice to beef up the heath factor.
Have you tried Quinoa before? It's pronounced Keen-Wah. (See a post about cooking Quinoa and another post featuring a fabulous Quinoa salad here). I used red quinoa for this recipe, but you could use regular as well. I found it at Smiths (Kroger) in the bulk food section. I have also seen it at WynCo. You can also buy the regular variety at Costco. Quinoa has been touted as being the new super food. It's considered a whole grain and a protein. It's a great source of dietary fiber, contains essential amino acids as well as calcium, phosphorus, iron and magnesium. There's a lot of great stuff harbored in those pretty little seeds!
Now, if you make this soup (which I surely hope you will!) and your kids say something like "What is this soup, what are those brown seeds and why do I have to eat it?" I would recommend not going into a lengthy description of its health benefits. Why is it those kind of comments seem to turn kids off. Crazy little creatures, aren't they. 🙂
I would just tell them "Listen, this soup is going to make you brilliant and beautiful. Give it a taste!"
And the taste, I have to tell you is fabulous. It has all the comforting goodness of Chicken and Rice Soup, with an extra dose of good for you. We have been making it all winter. The first time I made it my kids eyed it with questioning looks…but then, wouldn't you know it, every last one of them cleaned their bowl right to the bottom.
Brilliant and beautiful is what we are hoping to be very, very soon.
Chicken Quinoa and Brown Rice Soup
PRINT RECIPE
Time: 1 hour
Yield: 10 main course servings
Recipe from Jamie Cooks It Up!
1 onion, chopped
2 C carrots, chopped
2 C celery, chopped
2 Tb olive oil, divided
1 1/2 pounds chicken thighs (I used frozen)
16 C water
12 tsp chicken base (or chicken bullion)
1 1/2 tsp thyme
1 tsp poultry seasoning
1 tsp parsley
2 bay leaves
salt and pepper
2/3 C red quinoa (or regular)
3/4 C brown rice
5 C spinach
1. Chop up 1 onion, 2 cups carrots and 2 cups celery.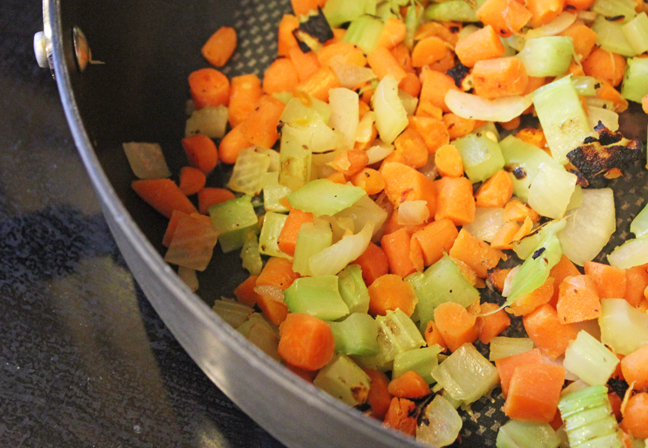 2. Heat a large deep skillet over medium high heat. Add 1 tablespoon olive oil to the pan. When the oil is hot add the vegetables and sprinkle them with a bit of salt and pepper. Cook them until they are crisp tender. Should take about 5 minutes. Carefully scoop them onto a plate and set it aside.
3. While your veggies are cooking place 1 1/2 pounds chicken thighs into a soup pot. I used frozen.
4. To the soup pot add 16 cups hot water and 12 teaspoon chicken soup base, or chicken bullion cubes.
5. Add 1 1/2 teaspoons thyme, 1 teaspoon poultry seasoning, 1 teaspoon parsley and 2 bay leaves. Sprinkle in a generous amount of salt and pepper.
6. Bring the soup to a boil over high heat. Watch it closely so the pot doesn't boil over! Once you have a rolling boil, turn the heat down to medium and allow the chicken to cook through. Should take about 20 minutes.
7. Grab 2/3 C red quinoa and 3/4 C brown rice.
8. Grab the skillet you used to saute the veggies in  and heat it up over medium high heat. Add 1 tablespoon olive oil. When the oil is hot add the quinoa and brown rice. Give it a nice stir and allow the quinoa and rice to get nice and toasted. It will start to smell fantastic, and kind of nutty. Should take about 5 minutes.
9. When the chicken is cooked through, remove it from the pot and shred it with two forks. Carefully place it back in the pot.
10. Carefully pour the toasted quinoa and rice into the soup pot. Bring the mixture back to a boil and place the lid on sideways so that some of the steam can escape.
11. Cook for 20 minutes, or until the grains are soft and cooked through.
12. Add the veggies and simmer just until they are heated through.
13. Remove the soup pot from the heat.
14. Grab about 5 cups (give or take) spinach…
and chop it into tiny pieces. Toss it into the soup and give it a nice stir.
Taste the soup and add more salt and pepper if you like.
Enjoy!