One of the most popular recipes on my site is a wonderful Cranberry Cream Cheese Dip that many of you have made and loved. I wanted to make a version that could be enjoyed in the summertime. I omitted the cranberries (can't find them this time of year, as you know) and added raspberries in their place.
It was a good choice. 🙂
Here is what you should know about this dip.
Sweet raspberries are blended with a few powerhouse ingredients, like cilantro, green onion, jalapeno, cumin…and sugar. Sounds a little bit crazy, right? It is a fabulous blend of sweet and spicy. This mixture is poured over the top of cool cream cheese. Dip into it with a crunchy wheat thin or tortilla chip and man…you will really be livin'.
In a sweet-spicy-creamy sort of way.
Let me show you how to make the magic happen! Hope you make it and love it.
Raspberry Jalapeno Cream Cheese Dip
PRINT RECIPE
Time: 15 minutes prep + 1-3 hour refrigeration
Yield: 10 servings
Recipe adapted from Heather Peterson
1/4 C green onion, chopped
1/4 C cilantro, chopped
1 small jalapeno pepper
1 (18 ounce) package raspberries
1/4 tsp cumin
2 Tb lemon juice (bottled is fine)
1 1/4 C sugar
dash salt
2 (8 ounce) packages cream cheese, softened
wheat thins or tortilla chips
1. Grab some green onions, cilantro and a small jalapeno. Pretty to look at, aren't they?
2. Chop the furry ends from the green onions and discard them. Chop the onion into small slices.
You'll need 1/4 cup.
3. Chop the cilantro into small pieces as well, equaling 1/4 cup. Place the green onions and cilantro in your blender.
4. Now, tackle that jalapeno. A word of caution here. The seeds of the jalapeno are super hot…not just on your taste buds, but on your fingers as well. Make sure to use rubber gloves when handling them. Don't burn your fingers! Keep them safe and free from harm, won't you? 🙂
Remove the seeds from the jalapeno and chop the exterior into small pieces. I usually discard ALL BUT  8 or 9 of the seeds. I don't like my dip overly spicy. If you like a lot of heat, add more seeds. Add the jalapeno and desired number of seeds to your blender.
5. Find yourself 18 ounces of  beautiful raspberries. You can use fresh of frozen. Place them in your blender.
6. Add 1/4 teaspoon cumin…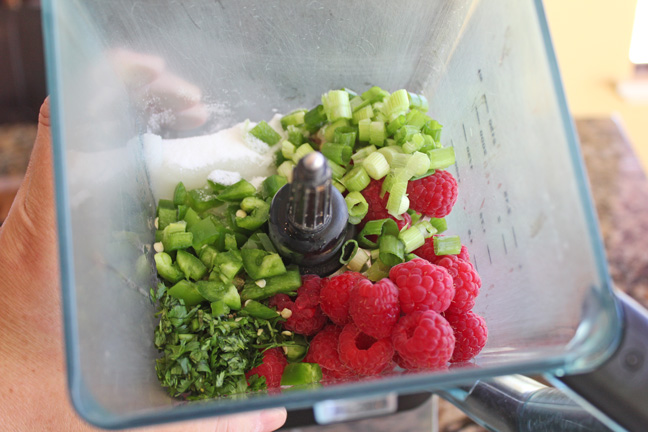 2 tablespoons lemon juice, 1 1/4 cups sugar and a dash of salt.
Blend it all up until smooth.
Pour it into a container and pop it into your fridge for at least 1 hour and up to three days.
7. Place 2 packages of softened cream cheese  on a serving platter. It works best to use a dish that has a little bit of lip to it so the juicy raspberry mixture doesn't drip off.
8. Spread the cream cheese out evenly…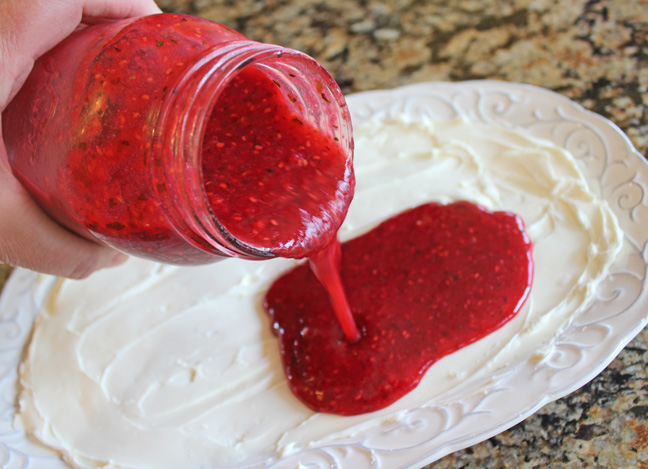 and pour the raspberry mixture over the top.
Lovely!
Serve with wheat thins or tortilla chips.
Enjoy!