A few weeks ago, while at Girls Camp I had the opportunity to help make Dutch Oven Cheesy Funeral Potatoes for our crew of girls. Man, were they ever good! What is it about dutch oven food that is just so darn fabulous! I wish I knew. 🙂 I took a bunch of pictures along the way so I could post this recipe for all of you, just in case you are heading off into the wilderness sometime soon with a dutch oven and some shredded potatoes tucked under your suitcase.
These potatoes are flavorful, creamy, cheesy, hearty and have a wonderfully golden crunchy topping. Sounds like great wilderness food, yes?
Let's make em!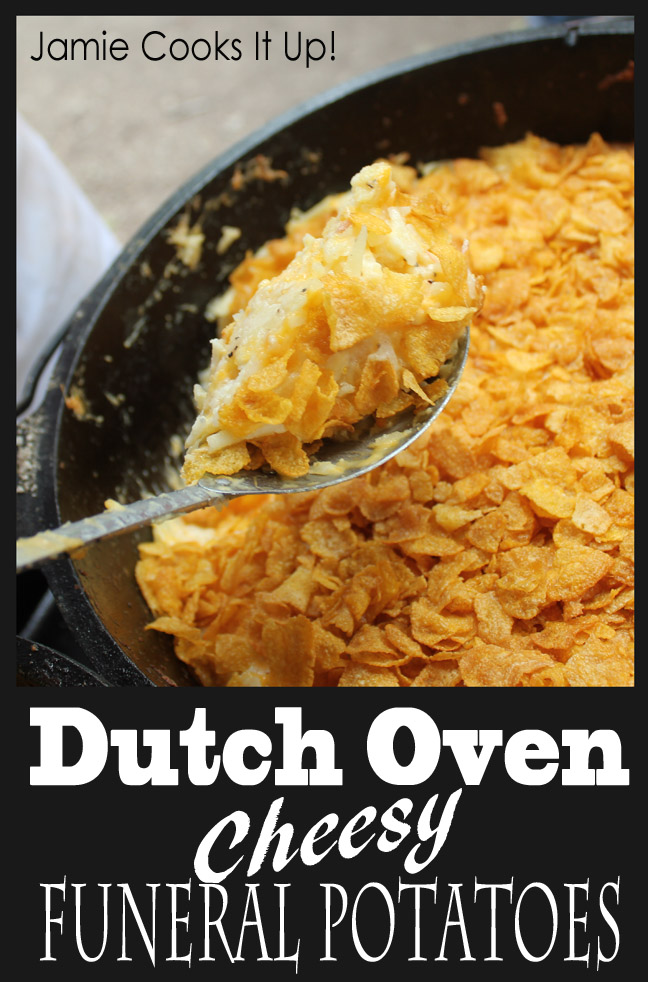 Dutch Oven Cheesy Funeral Potatoes
PRINT RECIPE
Time: 15 minutes prep + 45-60 minutes cooking
Yield: 20 servings
Recipe from Angela Howells
***Note: We prepped these potatoes using propane powered Camp Chefs, then removed them from the propane and let them cook over the top of hot charcoals and with hot charcoals on top. Cooking them the entire time over the propane can be kind of risky, resulting in the bottom being burned before the top is heated through. Using the charcoal method helps them to cook more evenly. ***
1 C butter
2 (10 ounce) cans cream of chicken soup
1 1/2 C sour cream
4 pounds shredded potatoes
5-6 C cheddar cheese, shredded
salt and pepper
5 C corn flakes
3 T butter
15-20  hot charcoals

1. Into a hot, deep dutch oven place 1 cup butter. Allow it to melt completely. We used propane powered camp chefs at this point.
2. Add 2 cans of cream of chicken soup…
and 1 1/2 cups sour cream. Stir it well to incorporate.
3. Add 4 pounds shredded hash brown potatoes. We got ours at Costco. This box has 3, 3 pound packages inside.
Stir the potatoes into the creamy mixture and add some salt and pepper.
4. Add 5-6 cups cheddar cheese and stir it in until well combined.
5. Into a large bowl combine 5 cups corn flakes and 3 tablespoons of melted butter. Stir it well to combine. Add them to the top of the potato mixture.
6. Cover the dutch oven and place it over the top of about 10 hot charcoals. Place 10 hot charcoals on top of the dutch oven and allow the potatoes to cook through. Should take about 45-60 minutes depending on the weather (cross your fingers in the hopes of no wind!) and the temperature of your charcoals.
Serve and enjoy!
Happy Camping!