Several years ago my sister Alli brought to my attention a wonderful recipe for caramels that didn't require the individual pieces of candy to be wrapped. Besides saving time (which let's face it, is a blessing this time of year) this caramel recipe was also laden with chocolate and pecan pieces. Yum. Seriously, these are so ridiculously delicious. I made a batch last week using my standard caramel recipe and we could hardly keep our hands off of them! The chocolate and pecan pieces coat the bottom and top of the caramels making them more compatible for serving on a platter instead of being wrapped individually. A good idea, yes?
If you are a homemade caramel fan, give these a try. They would be perfect to take to a holiday party or wrapped on a pretty plate to give to your neighbors.
Enjoy!
Looking for a collection of holiday treats? Click HERE to see 40 Christmas Treat Recipes.
Caramels with Chocolate and Pecans
PRINT RECIPE
Time: 30 minutes + 4 hours to set up
Yield: 1 (9×13) pan
Recipe adapted from Taste of Home
***NOTE: These caramels will keep well, in a sealed container for 1-2 weeks. ***
1 C pecans, chopped
2 C milk chocolate chips
1 C butter (I use salted)
2 C brown sugar
1 C corn syrup
1 (14 ounce) can sweetened condensed milk
1 tsp vanilla
1. Line a 9×13 pan with tin foil. Spray it generously with cooking spray. Really douse it, guys. You don't want the caramel to stick.
2. Chop 1 cup of pecans. Heat a medium-sized skillet over medium high heat. Add the nuts and toast them for about 3-4 minutes or until they change slightly in color and start to smell fragrant and wonderful.
3. Sprinkle half of the pecans over the tin foil. Sprinkle 1 C milk chocolate chips over the nuts and set the pan aside.
4. Grab a heavy sauce pan and place a candy thermometer in it. I love this thermometer from Pampered Chef. It's super durable and reads more accurately than any I have had in the past.
5. Turn the heat to medium high. (I like to keep mine closer to high than to medium). Place 1 C butter in the pan and allow it to melt.
Add 2 C brown sugar,
1 can sweetened condensed milk,
and 1 C corn syrup. Stir it all together with a wooden spoon.
6. Now, bring the mixture to a boil and keep stirring constantly. You want to cook the caramel to 235-240 degrees. Depending on how high you keep the temperature, this can take from 10-20 minutes.
7. I like to keep a small bowl of ice water and a spoon next to the stove top while I am stirring. When the caramel hits 230 degrees, dip the spoon in the caramel and then in the ice water for 10 seconds or so. Press your finger into the caramel. If your finger indentation stays put, the caramel is done.
8. Remove the pan from the heat and add 1 tsp vanilla. Stir to combine.
9. Pour the caramel into the pan, making sure to cover all of the chocolate and pecans.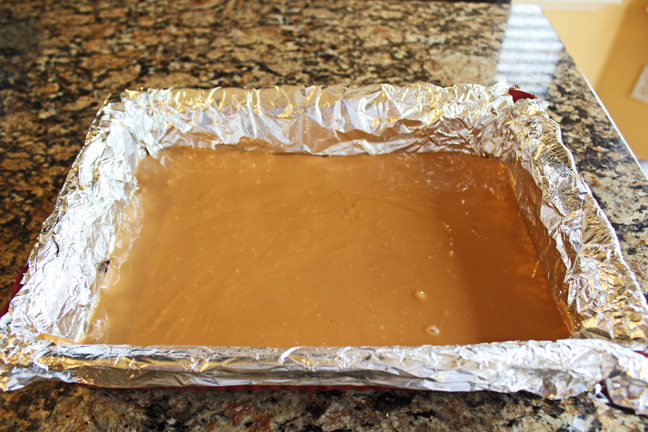 Like this!
10. Sprinkle the remaining pecans and 1 C milk chocolate chips over the caramel.
11. Allow the candy to set up for at least 4 hours.
12. Using the edges of the tin foil, lift the caramel from the pan and slice it into small squares with a sharp knife. I sprayed my knife with a bit of cooking spray and that made the cutting much easier.
13. Spray a pretty platter or serving tray with cooking spray (just in case some of the gooey caramel has seeped through the chocolate/pecan layer). Place the caramel pieces on top.
Serve and enjoy!