I have a blast from the past to share with you today, dear reader. This Beach Street Lemon Chicken has been one of my families favorite recipes for many years and was one of the first recipes I posted some 5 years ago. That original post has some pretty frightening pictures in it. I wanted to give it a little facelift and bring it to the top of the recipe pile to share with you all, since there were only about 10 of you around reading this blog when Beach Street Lemon Chicken first came to live here. 🙂
Some interesting things for you to know about this fabulous chicken dinner.
It's light and so refreshing! The chicken sits in a super flavorful marinate (for 1-24 hours) that is loaded with lemon and cajun seasoning. It kind of sounds like a strange mix, but trust me it is wonderful! When you are ready to eat you just cook up the chicken and marinade, boil some pasta and basically mix the two together along with fresh parsley, green onions and parmesan cheese. It's a wonderful combination!
Give it a try, won't you?
Roasted Balsamic Glazed Carrots
Whole Wheat Muffins
Easy Caramel Smore Bars

Beach Street Lemon Chicken
PRINT RECIPE
Time: 30 minutes + 1-24 hour to marinate
Yield: 6 servings
Recipe adapted from Deals to Meals
3 T olive oil
3-4 cloves garlic minced
1 t Cajun seasoning
1/3 C fresh lemon juice (about 2 lemons worth)
1/4 minced fresh parsley
7 T brown sugar
4 T soy sauce
5 chicken breasts, sliced
1 (12 ounce) package Linguine or Fettuccine
zest from 1 lemon
juice from 1 lemon
1/2 C chopped green onion
1/4 C chopped fresh parsley
1/2 C parmesan cheese, grated
salt and pepper
1. Into a small mixing bowl place 3 Tb olive oil, 3-4 cloves minced garlic and 1 tsp N'Orleans Cajun seasoning.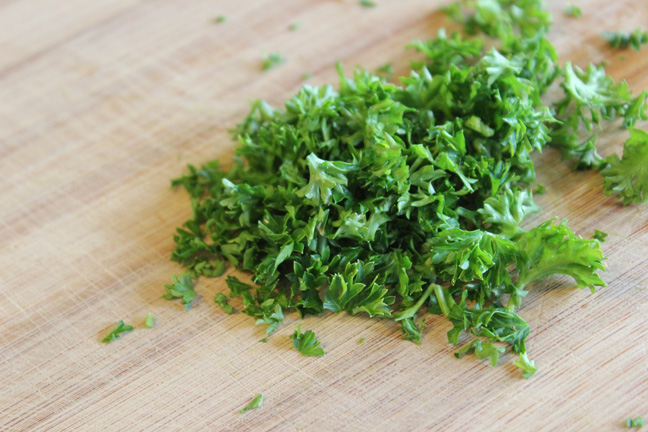 2. Add 1/4 C fresh parsley, chopped.
3. Squeeze 1/3 C fresh lemon juice and add it to the bowl.
5. Add 7 Tb brown sugar and 4 Tb soy sauce and stir it well to combine.
6. Take 5 chicken breasts and cut them into strips with some kitchen scissors. Place them in a gallon sized ziploc bag and pour the marinade over the top.
7. Seal the bag securely and place it in the fridge for 1-24 hours.
8. When you are ready to eat, heat a skillet up over medium high heat. Pour the chicken along with the marinade into the skillet.
Allow it to come to a boil, reduce the heat to medium and let it simmer away until the chicken is cooked through.
9. While the chicken is cooking, cook one 12 ounce package of fettuccine or linguine noodles.
10. Zest 1 lemon and then squeeze the juice into a measuring cup.
11. Chop 1/3 C of green onions and 1/4 C fresh parsley.
12. When the chicken has cooked through add the strained pasta, green onions and fresh parsley to the skillet.
13. Pour in the lemon juice and zest.
14. Sprinkle 1/2 C grated Parmesan cheese over the top.
Using a pair of large tongs, stir the ingredients all together. Give it a taste and hit it with salt and pepper according to your liking.
Serve immediately and enjoy!

Follow me on Instagram at jamiecooksitup_ or by clicking here.