I love making skillet fajitas. They are so easy and quick. I often use a packaged fajita mix, and keep a large stash of them in my food storage. However, for the past few months my stash has been depleted and for some reason (lady with five kids here, diminishing brain cells is part of the experience) I can't seem to remember to add the words "Fajita Seasoning" to my grocery list. I have a problem, I suppose. I can't seem to find my
Anyhow, I have been mixing up my own homemade fajita mix lately with basic seasonings I found in my cupboard. I multiplied the recipe several times, so I would have enough to make fajitas 10 + times.
You can find my recipe for Skillet Chicken Fajitas (using this mix) by clicking here.
Homemade Fajita Seasoning Mix
PRINT RECIPE
Time: 5 minutes
Yield: 1 3/4 C mix (enough to make fajitas 10+ times)
Recipe adapted from Allrecipes
1/2 C cornstarch
1/3 C chili powder
3 Tb salt
3 Tb smoked paprika
3 Tb sugar
1 Tb onion powder
1 Tb garlic powder
2 tsp cayenne pepper
1 1/2 Tb cumin
1. Grab 1/2 C cornstarch, 1/3 C chili powder, 3 Tb salt, 3 Tb smoked paprika, 3 Tb sugar, 1 Tb onion powder, 1 Tb garlic powder, 2 tsp cayenne pepper and 1 1/2 Tb cumin.
2. Pour them all into a small mixing bowl.
Stir well to combine.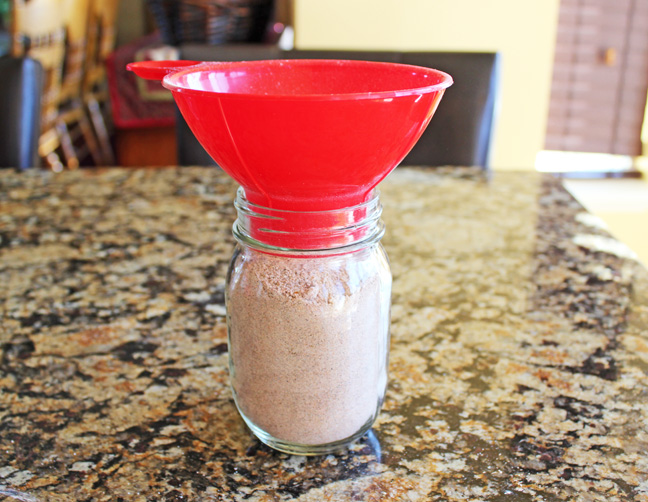 3. Carefully pour into a airtight container.
Make sure to label the outside of the container. Seal and store for later use.