***Note: The Weekend Report posts I've been publishing for the past couple of years, are moving to Thursdays and will be called The Week's Report. Weekly Meal Plans will now be published on Saturdays. 🙂 End of note…***
We spent many a day hard at work this past summer. Sawing, nailing, measuring…building.
When we bought our cabin at Bear Lake three years ago, it came with an unfinished garage built under a partially finished deck. We knew we would need to finish both of these off, as the wood wasn't treated and was beginning to look weathered. Additionally, the deck is high above the ground, about 12 feet in some spots…so there was certainly the issue of safety to deal with, considering it only had a make shift railing. Having small children (or big children, for that matter) topple off the edge wasn't our idea of a fun time at the lake, if you get what I am saying here. 🙂
So, finally this summer we bit the bullet, made a call for All Hands on Deck (ha!) and got to work. And work, it was. We spent most of July deep in the midst of it all, and for the most part it was super great. There was a low percentage of grumbling and fighting (thank goodness) compared to the laughing and joke telling, which I will take as a win on any given day. I loved being able to work side by side with each of my kids and MyHandsomeHusband. Good memories were made.
You can see where the old wood meets up with the new, here. Good thing we didn't wait any longer to finish it! That wood was getting weathered, to be sure.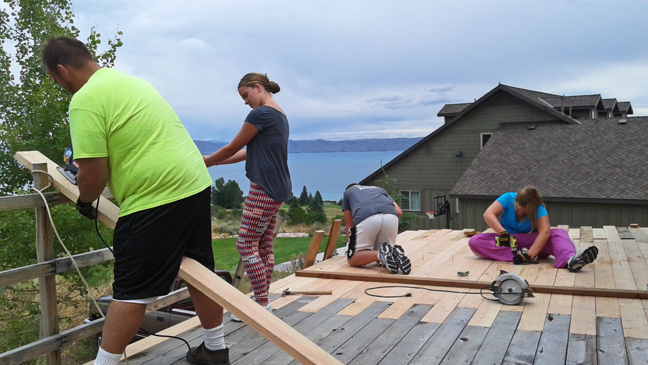 It went faster on the days my teenagers were around to help. Go figure. 🙂 "Many hands make light work"…as my own mama used to say. Man, she is one smart woman.
Sweet! Getting closer to done…
Tough guys on the clean up crew…
Now for a little paint…
And just like that, the job got done. Well, at least the deck portion. We still have work to do underneath on the garage, but that might have to wait for another year.
Or two…my feet hurt.
For now, I'm hoping to spend a little time soaking up the gorgeous fall weather…

while I sit back in this chair, put my feet up and enjoy a lot of great conversation. Next year we're hoping to get rid off that backyard full of dry weeds and turn it into pretty green grass. We hope. 🙂 We've got a few months before then to gear up…