Hello there, dear readers. No new recipe today, rather a post of another kind for you all. Many of you are aware that my oldest son Mark left last February to serve an LDS mission in Nashville, Tennessee. This is a picture of my family dropping him off at the Provo MTC. That was a day for big dark sunglasses, I can tell you that. I don't think I've ever been more proud and more sad all in the same 24 hours. (Which equated to large amounts of emotion and severe tear spillage from my red rimmed eye balls).
We'd spent the weeks prior to his leaving buying suits and ties, making fun memories as a family…
…and attending the temple. They were some of the sweetest weeks I've ever spent as a mother. The day Mark went through the temple for the first time was beautiful beyond words. Our parents and many siblings were there with us. It was one of the best days of my life, truly.
My girls and I, the day of Mark's farewell address.
Before LDS missionaries are sent out into the field, they give a talk during Sacrament Meeting (a church service). The meeting-house was packed with our dear friends, ward members and family.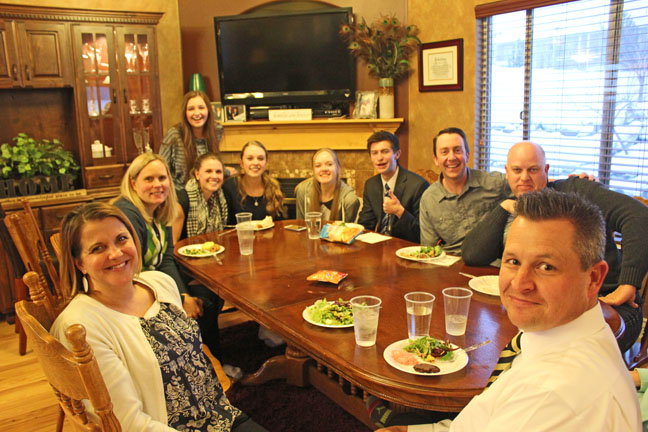 It felt like heaven, having everyone we love so much all in the same room.
We spent the afternoon feeding everyone and just enjoying the wonderful day that it was.
My wonderful sisters and brothers in law
And it was wonderful, every minute.
During Mark's farewell talk, he was very candid about the difficulties he has had in his life. From a very young age he has struggled with anxiety. His anxiety is super specific. It doesn't come on due to worry about not doing well, or being enough, or doing enough. It creeps in and grabs a hold of him, only when he is away from home and family. Separation Anxiety, it is. We spent many long mornings when he was in elementary school coaxing him into the car to go to school, encouraging him and telling him that all would be well, praying with him and for him, helping him to work through the anxiety. Through his teenage years, scout camps and youth conferences were hard. Very hard. But it was something that he worked through. He was able to attend enough scout camps to qualify to receive his Eagle Scout (hooray!) and by his senior year in high school he had it pretty much managed and was able to attend camp that summer with no problem at all. He had no issues going to junior high or high school and enjoyed his teenage years quite a lot.
All young men in our church are asked to serve 2 year missions and can start applying to serve when they are 18 years old. Mark has always been very obedient and willing to do what is asked of him. Serving a mission was a sobering prospect for him, considering his level of anxiety at being away from home.  We knew it would be hard. Being away from home for a weekend is one thing. Serving a 2 year mission, with very little contact with family and friends is an entirely different animal. When Mark originally submitted his mission papers The Church (knowing of his situation) asked him to move away from home for 3 months, gain some experience at living away and submit his papers again. The Lord blessed us a lot during this time. Mark moved about an hour away from home and went to a semester of school at Weber State. He did very well, and though it was difficult for him to be away from home he gained some much-needed experience.
Mark met some wonderful people on his mission. His testimony of the gospel and of God's love increased tremendously. But the anxiety was severe. Crushingly so. It was a pain that he carried with him constantly while he served. He had anxiety attacks and was further burdened with depression. After he had served for 2 months we got a phone call from his mission president informing us that Mark would be coming home, with an honorable release due to his medical condition. Anxiety and Depression.
On the day he came home, my husband, children and I all sat together and listened to Mark tell us as many details of his mission as he could recall. He was much changed, even though he'd only been gone for a couple of months.
That afternoon we sat together and watched the following video clip that had been released just days before. It brought us a lot of comfort!
My husband, Mark and I discussed how best to approach his early release. We were worried about how he would be received in our community and wanted to make the transition as easy as possible. Following the advice of a friend who experienced a similar situation, we let people know through our social media accounts that he was home. At the very least, we figured this would ease the blow and make it less awkward as he ran into people around town.
I posted the above message to my personal Facebook page and Instagram account. Mark wanted to mention the reason for his release. He was brave, very brave in being willing to admit the reason and I was, and still am, so proud of him. "I don't have anything to hide, Mom. We might as well call it what it is." were his exact words. He's a good kid. But I have to admit, I sat on my bed, staring at my phone for about 45 minutes before I actually pushed the submit button on that message. I crossed my fingers that he would be treated well by it.
I had not anticipated the beautiful way people would love us on that day and have loved us since. We received loving messages of support and encouragement from friends, family, congregation members, community members, acquaintances, blog followers, and even strangers. Many people reached out to us who have experienced similar things extending love, support and advice. We were wrapped up in love. People have been so good to us. It has made all the difference in the world.
The Lord has blessed us in many, many ways through his mission and early release. Though he was only in Tennessee a short time, Mark was able to assist in teaching the gospel to many people. One, in particular who was baptized and confirmed the day before he left to come home.
Mark's been blessed with a strong, sure testimony of the gospel. I was worried that his early release would diminish his love for Heavenly Father and commitment to the gospel, but it has had the opposite effect on him. The Lord strengthened him tremendously while serving and since he has been home, and for that I am so grateful.  He's been home for 5 months now.  He spent the first 2 weeks at home with me, easing into things and wrapping his mind around the future. He is doing very well, has been working hard throughout the summer months  installing ceiling sprinklers (hard work is such a blessing!) and will be moving away from home this Saturday to live on campus at, and attend Weber State University. Crossing our fingers that all goes well for him there!

Three of my kids laying sod this past summer at Bear Lake. 🙂
I suspect anxiety is something Mark will deal with from time to time throughout his life. That he was willing to answer the Lord's call to serve a mission, knowing the particular sacrifice, struggle and challenge it would be for him, is something I always be grateful for.
My sister Alli sent me a text a few days after Mark arrived home that read…
"He hath made all things beautiful in His time…" Ecclesiastes 3:11
I have found it to be ever so true.