Every year about this time I start craving lemon. Sun-shiny, bright, cheerful lemon flavored everything. (See a few of my favorite Lemon recipes below). I imagine my lemon craving has a lot to do with the mid-winter gloominess that is so common this time of year.
I set off  to make a Lemon Bread recipe that is super moist, has a perfect lemon kick and a sugary glaze coating the exterior. I'm happy to say that this Lemon Bread is all three of those. We are seriously in love with it! Hope some of you get a chance to try it!
Ingredients
LEMON BREAD:
3 C flour
1/2 tsp salt
1 1/2 tsp baking powder
2 1/2 C sugar
3 eggs
1 1/2 C milk
1 C oil
1 1/2 tsp vanilla
3 Tb lemon juice, fresh is best
2 Tb lemon zest, loosely packed
4 Tb butter, melted
GLAZE:
3/4 C sugar
1/4 C lemon juice, fresh is best
1 1/2 tsp vanilla
2 Tb melted butter
dash salt
Instructions
1. Preheat your oven to 350 degrees.
2. Into a large mixing bowl, place the flour, salt, baking powder and sugar. Whisk it together to combine.
3. In a separate bowl whisk together the eggs, milk, oil and vanilla. Add the wet ingredients to the dry and stir with a wooden spoon until the wet and dry ingredients are only half combined. (You should be able to see many streaks of flour still.)
4. Add the lemon juice, lemon zest and melted butter and stir to combine completely making sure not to over mix. Just stir until all of the flour is incorporated.
5. Line the bottom of 2 loaf pans with parchment paper and spray the the sides of the pan with cooking spray. Pour the batter into the pans. Pop into the oven and bake for 40-45 minutes or until a toothpick inserted into the center comes out clean.
6. Remove the pans from the oven and allow to sit for 5 minutes. Transfer to a wire rack and cool for 5 minutes.
7. Whisk together the glaze ingredients. While the loaves are still warm brush the glaze along the bottom and sides of each loaf. Then pour the rest of the glaze over the top of the loaves, making sure the entire exterior gets covered.
Allow to cool, or eat warm. Cover leftovers tightly in plastic wrap. Will keep for 4-5 days. It also freezes super well, up to 2 months.
https://jamiecooksitup.net/2018/02/glazed-lemon-quick-bread/
Recipe from www.jamiecooksitup.net
Recipe from Jamie Cooks It Up!
Here are a few more of my favorite Lemon Recipes for you to feast your eyes on…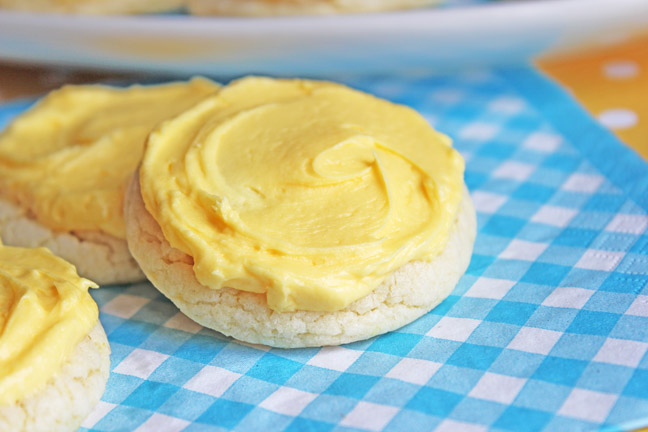 Soft Frosted Lemon Sugar Cookies 
Beach Street Lemon Chicken 
Blackberry Cashew Salad with Lemon Poppy Seed Dressing
Honey Lemon Ginger Chicken