Hello dear reader and welcome to my latest edition of GREAT BOOKS TO READ. You can see all past BOOK RECOMMENDATIONS by clicking HERE. There are some fantastic reads listed below. I've found myself drawn towards biography/memoir style books lately and you'll notice that in the book list this time. Also, it has taken me some time to get on board the Audio Book craze, and while I'd much prefer to read books than listen to them, it sure is a great way to immerse myself in a great story while my hands are busy doing other things. We've been helping my son remodel his new home and listening to books while painting and working has been so great. I'm a fan of the audio, I truly am.
To enter the giveaway simply leave me a comment telling me a book (or two or twenty) you have enjoyed reading. I LOVE reading the comments that go along with these posts and have so appreciated your book recommendations over the years. Looking forward to reading them this time as well. The giveaway will be open until June 18th at midnight. The winner will be announced on Friday June 19th. Best of luck everyone! 

THE SUN DOES SHINE: HOW I FOUND LIFE AND FREEDOM on DEATH ROW by Anthony Ray Hinton
5 STARS
Wow! This is the amazing story of a man wrongfully convicted of murder and sentenced to the death penalty. He lives for 30 years on death row. His transformation from bitterness and hatred, to forgiveness and kindness is truly inspiring. Such a great example of the power of changing our attitude in any circumstance. I also was touched by his devoted mother, her faith and trust in God.
THE TATTOOIST OF AUSCHWITZ by Heather Morris
4 STARS
No matter how many books I read (or in this case, listen to) about the Holocaust, I am always surprised by the horrific conditions that human beings can create and force others to inhabit. This book was no different. However, I am always so impressed with the amount of decency, kindness, sacrifice and compassion I find in these stories as well and that is why I read them. To see light and goodness come out of darkness and despair. I was amazed by this true story. It's one of those books you think about for a long time after reading it.

THE GIVER OF STARS by Jojo Moyes
4 STARS
I loved this book, its strong female characters, the story line, the way it champions literature as well as the beautiful writing style. It's about a small mining town in Kentucky and the Pack Horse Librarians that deliver books to houses throughout the county. I highly recommend this one. 

THIS TIME TOGETHER/LAUGHTER and REFLECTION by Carol Burnett
3.5 STARS
I enjoyed listening to this memoir style book very much. It's read by the author, which is especially fun. I loved hearing about Carol Burnett's unique life. Her sense of humor and outlook on every day situations is so charming. A fun break from the emotionally heavy books I've been frequenting. Yet, it was still full of inspiration and happiness. A great read.

WHERE THERE'S HOPE by Elizabeth Smart
4 STARS
I've always been so impressed with Elizabeth Smart and her resilience. I so appreciated her willingness to share her experiences in her first book "My Story". This book is part memoir, part interviews with others who've faced adversity and have found hope and healing. It was a full of golden nuggets of wisdom. Highly recommend.

IN THE SANCTUARY of OUTCASTS by Neil White
4 STARS
This is the true story of Neil White and his year long experience serving time in prison for laundering money. It's a fascinating read. The facility he's housed in during his sentence not only serves as a prison, but a compound for leper patients. Neil makes friends with many of these patients and is taught some amazing lessons through their acquaintance. The story is about humility, self-awareness, redemption and second chances. I loved it. Please be aware that there is some pretty colorful language. 😉

FLY GIRLS: HOW FIVE DARING WOMEN DEFIED ALL ODDS AND MADE AVIATION HISTORY by Keith O'Brien
4 STARS
This was a great read. I've always been in awe of aviation. Every time I step foot on a plane I'm amazed at the miracle of it. I was drawn to this book for that reason, but was also interested in reading about what flying was like in it's early years especially for women. My own Grandma learned how to fly a plane when she was young in the late 30's. Can you imagine! I've always wondered where she came up with the bravery for that kind of adventure.  This book chronicles the flying careers of 5 female pilots through the 1920's and 30's. I couldn't help wonder if they were examples for my own Grandma and how they may have influenced her decision to learn to fly. I certainly was impressed by them!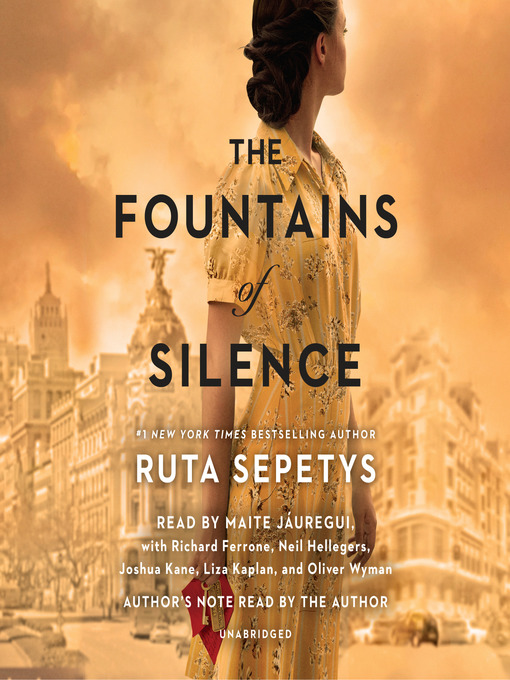 THE FOUNTAINS of SILENCE by Ruta Sepetys
3.5 STARS
This book was super interesting to me and covered I time period I wasn't familiar with. It's set in Spain 20 years after WWII. I have loved other books by this author (Between Shades of Gray and Salt to the Sea) and while this book wasn't quite as good as those two it was still a great read. The young adult love story, action, suspense and historical intrigue were all part of its charm.

CHARLIE'S MONUMENT by Blaine M. Yorgason
3.5 STARS
I read this book for the first time when I was a young girl, maybe in the 5th or 6th grade and loved it then. I found a copy at my local thrift store earlier this year and found it so fun to read again. It's about a crippled man who fills his life with service and generosity. It's a super quick read, is a little cheesy (future readers be warned) but has such a wonderful message.

WE HOPE FOR A BETTER THINGS by Erin Bartels
3.5 STARS
This is a great historical fiction read, set in the Detroit area. There are three strong female characters, three stories and three time periods. The Civil war, civil rights era and present day are all represented. It was fascinating to read about race discrimination in all three stories. A pretty timely read for the current situations in our world today. The story telling is nice, the characters are lovable and relatable.