I have a wonderful classic recipe for Clam Chowder for you all today. This recipe comes from my dear Aunt Suzie and is actually the only clam chowder recipe I have ever made. Why experiment when this fabulous group of ingredients delivers each and every time, right! This chowder is creamy, nice and thick, hearty, flavorful and oh so comforting. It's also very easy to prepare and can be made in 30 minutes or less. Serve it with saltine crackers, or with a thick, crusty slice of this Fabulous French Bread.
Hope you enjoy it, guys!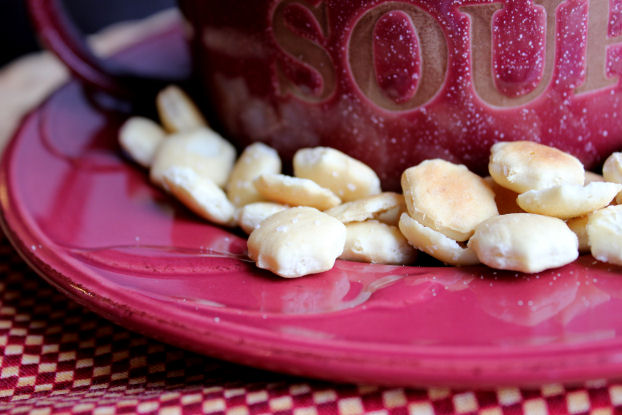 Time: 30 minutes
Yield: 5-6 servings
Recipe from my dear Aunt Suzie Spencer
1 C onion, chopped
2 C potatoes, chopped
1 C celery, chopped
2 (6 ounce) cans chopped clams
3/4 C butter
3/4 C flour
1 quart half and half
2 T red wine vinegar
1 1/2 t salt
pepper
1. Chop yourself 1 cup of onions,
2 cups of potatoes (I used russet),
and 1 cup celery. Pour all of the vegetables into a medium-sized sauce pan.
2. Find yourself two cans of chopped (or minced) clams in clam juice.
Open the cans and pour the clam juice over the top of the vegetables.
3. Add just enough water to the pot to cover the vegetables. Place the pot on the stove and bring the contents to a boil. Reduce the heat to medium high and let the veggies cook until tender. Should take about 7 minutes, give or take a few. 🙂
4. While the veggies cook, toss 3/4 cup butter into a large soup pot. Melt it over medium high heat.
5. Add 3/4 cup of flour to the pot and whisk it into the butter. The mixture will be nice and thick.
6. Add one quart of half and half to the pot. Now, some of you may notice that I used fat-free half and half. This was not intentional, I accidentally grabbed this at the store instead of the full fat version of half and half. That said… I'll let you in on a little secret. It still turned really good! Even with the fat-free half and half! Who would have thought, right! So, let it be known to you and all other home cooks in the universe, fat-free half and half may be substituted for regular half and half  in this recipe.
7. Whisk the liquid into the butter/flour mixture. As the temperature rises it will begin to thicken up nicely for you. When it starts to bubble up and is nice and thick, remove it from the heat.
8. When your veggies are tender pour them and the liquid you have cooked them in, into your soup pot. Give everything a nice stir to incorporate.
9. Add the clams,
2 tablespoons of red wine vinegar, 1 1/2 teaspoons sat and a few dashes of pepper. Heat the soup over medium high heat until it's heated through.
Serve and enjoy!